heath Ryan takes top honours on Day Two of the Sydney CDI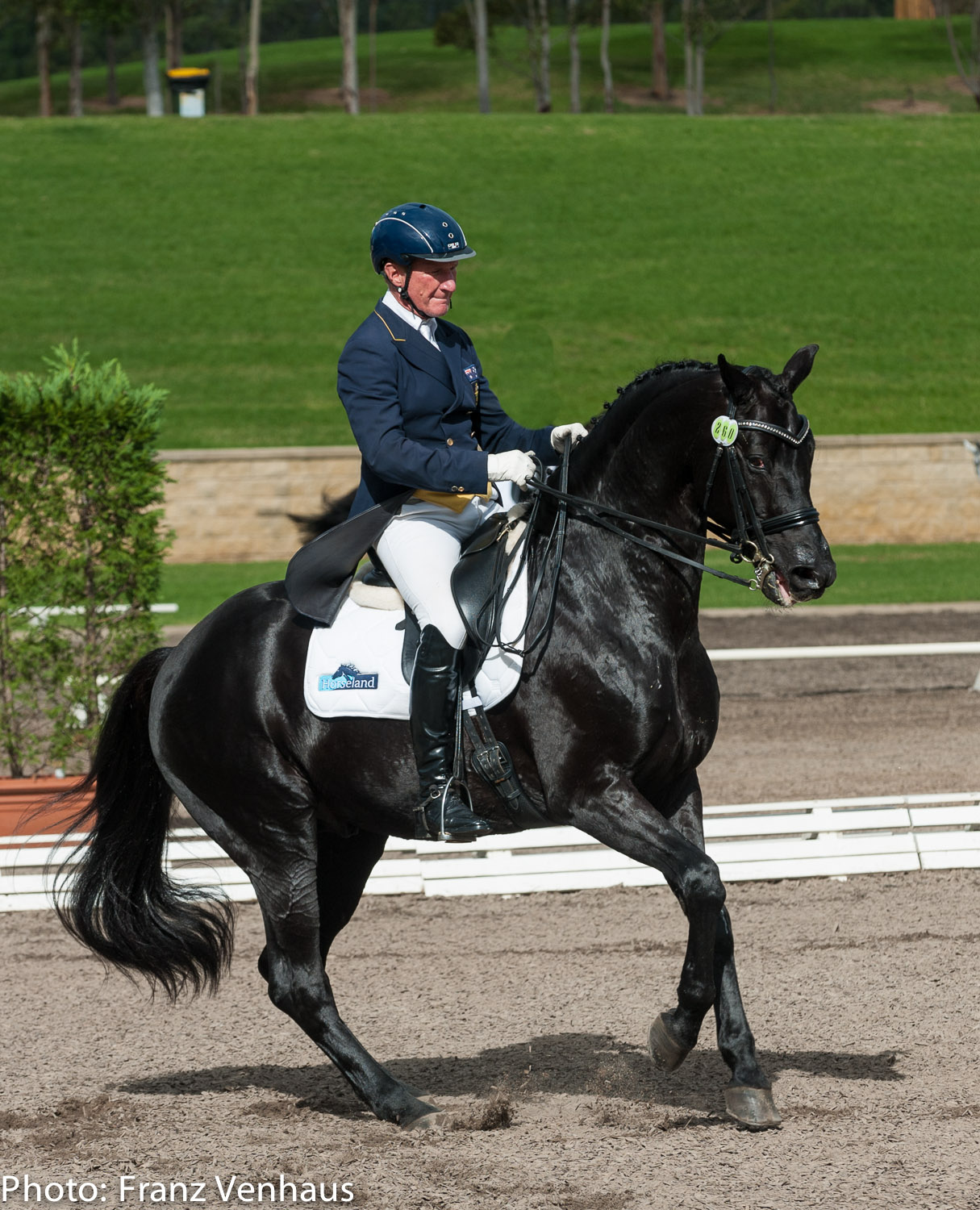 Story courtesy of Michelle Cook, Equestian Australia
He may be in the sunset of his career but Heath Ryan's 18 year old Regardez Moi continues to impress, today winning the Bates Saddles Grand Prix Special at the Sydney CDI.
Ryan and his mount were the first combination to go in today's Special and their score of 68.41% proved unbeatable. Yesterday's Grand Prix winner, Carolyn Wagner and Tango V placed second with a score of 66.65% while Jayden Brown and Furst Friedrich improved upon their 13th place in the Grand Prix to finish in third. The battle for second and third place was close with Furst Friederich scoring 66.20%.
Winner of the Special Ryan says his mount's age hadn't affected his ability in the arena.
"Regardez Moi is in the evening of his career and he's been a mighty horse for me. He's had over 40 Grand Prix wins, he's won the Grand Final at Equitana three years running and has represented Australia internationally, but he's 18 so it's all coming to a close.
"He's still a great horse though so if I can get the timing right he can give everyone a serious run for his money.
"He was first out today which is a bugger of a spot to win a competition from, but he posted a blinder and he hung on and we won so it's wonderful," he said.
Ryan also competed with Regardez Moi's son, 9 year old Utopian Cardinal, who placed fifth with a score of 65.16% and is emerging as a horse for the future.
"I made a couple of mistakes on Utopian Cardinal today, which was crazy because I had the door just open - he could have slipped up (in the placings) and done really well as well," he said.
With 35 combinations the IRT Advanced Tournament for horses boasted a big field and there was a clear standout at the end of the day with Rodney Martin (NSW) and SS Sonata Hit winning both the 5.2 and 5.3 classes.
"I'm thrilled with SS Sonata Hit he is getting better and better all the time, he is just the best horse I have ever ridden," Martin said.
The two two placings in the Mulawa Performance Grand Prix under 25 class were filled by National Youth Development Squad riders. Victoria Welch (QLD) and Brentanus were first with a score of 63.093%. and Megan Bryant (NSW) on Northern Xanthus III followed in second place by a margin of just 0.04%.
Having also won the Wagners under 25 Intermediate II yesterday, Welch is having a fairy-tale end to her final Sydney CDI competition in the under 25 class. "This is Brentanus' first season at Grand Prix level and I'm really happy with my test today. He was so willing and focused." said Welch.
Runner-up Bryant has finished in second place in the Grand Prix of this event every year since its inception in 2012 and although she still has two more years to crack a first place, she is hoping for a good result in Saturday's Freestyle.
"I'm pretty excited, Freestyle is really fun and Northern Xanthus really likes doing it, the movements are really suited to him so hopefully I can do well," said Bryant.
Victoria Stuckey (VIC) and Mayfield Be Brave were the winners of the Agnes Banks Equine Clinic FEI Young Rider Individual test.
"I was a bit worried about the test, because it's in the indoor and I have never done a good test in this arena, but I guess it paid off today.
"All the young riders are doing such a good job, the scores were really close today and it's really nice to have tough competition. There are some great horses and riders out there and there is a real team atmosphere, there is at least two riders from Victoria, New South Wales and Queensland in the field" commented Stuckey.
Stuckey will be returning to Sydney on Wednesday night to attend the Equestrian Australia Spor Achievement Awards Night "I was really surprised to be nominated for the Young Athlete of the Year award and I am honoured to be able in contention of an award at that level," she said.
The Equilibrium Products Intermediate I CDI was won by Janina Kletke and the nine year old warmblood stallion Bluefields Floreno with judges awarding the pair a combined score of 69.158%. Brett Parbery (NSW) and the Carolyn Lieutenant owned Good as Gold were in second after their test received a score of 68.632%. Young Rider Victoria Welch continued her good form at this event placing 4th in the class with the 11 year old Hanoverian mare Glogau, while Judy Dierks (NSW) and Diamond Star were third.
The addition of an accumulator jumping class to Saturday evening's main event will add further excitement to tomorrow night's Freestyle competition.