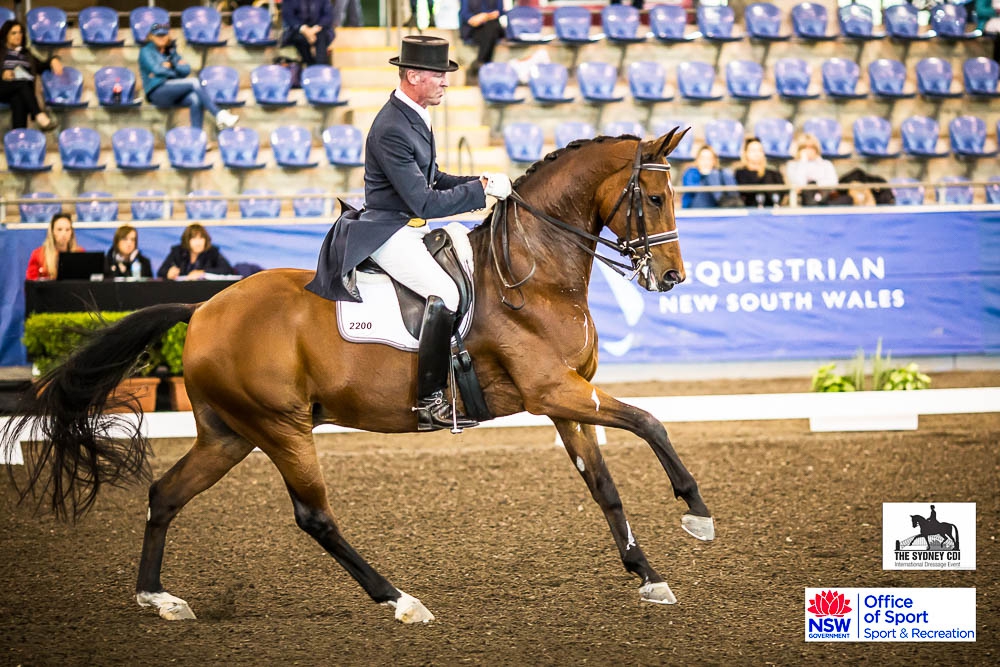 Stephen Mowbray
Day 1 of the Sydney CDI 2017 has been declared, Dowsley's day.
IT'S DOWSLEY'S DAY
Matthew Dowsley has had a phenomenal start to the Sydney CDI 2017 – with a remarkable three wins on the board.
Dowsely's day of domination kicked off with the Trailrace – Grand Prix (CDN), which he won on DON DESANDRO (owned by Cheryl Smith) with a score of 67.460
Dowsley, then quinellaed the Jilli Cobcroft – Prix St Georges (CDI3*). Wowing the Sydney crowd with a score of 73.632 on AEA PRESTIGE (owned by Denise Ceddia). This is the highest score in Sydney CDI history, overtaking Rachael Down's previous record on SILBERMOND 72.60 from 2015. Furthermore, Matthew secured second place in this class on FERDINAND MD (owned by Mathew Dowsley)  on 70.395.
Matthew capped the day off with a win in the NSW Sport & Recreation Grand Prix (CDI3*) on ADLOO RICHARD (owned by Dianne Jenkyn) on a score of 69.660.
Matthew had this to say to Equestrian Australia about his stellar day at the Sydney CDI 2017,
"I'm thrilled with all my horses. It's not that often that they do everything so perfectly all in one go. It's super"
You can see Matthew Dowsley in action at the Sydney CDI in the following classes tomorrow:
the Wades Equine Coaches – Intermediate 1 (CDI) - Indoor Arena 8.00 am -11.40 am
the Equestrian Australia – Grand Prix Special (CDI)- Grand Prix Special (CDI)
JOIN us for Day 2 to see if Matthew Dowsley continues to triumph at the Sydney CDI 2017.
The top three placegetters in the CDI Grand Prix can be found on the Sydney CDI YouTube:
Matthew: https://youtu.be/N-Jh86ke_ew
Brett: https://youtu.be/vFvkoTdN7dI