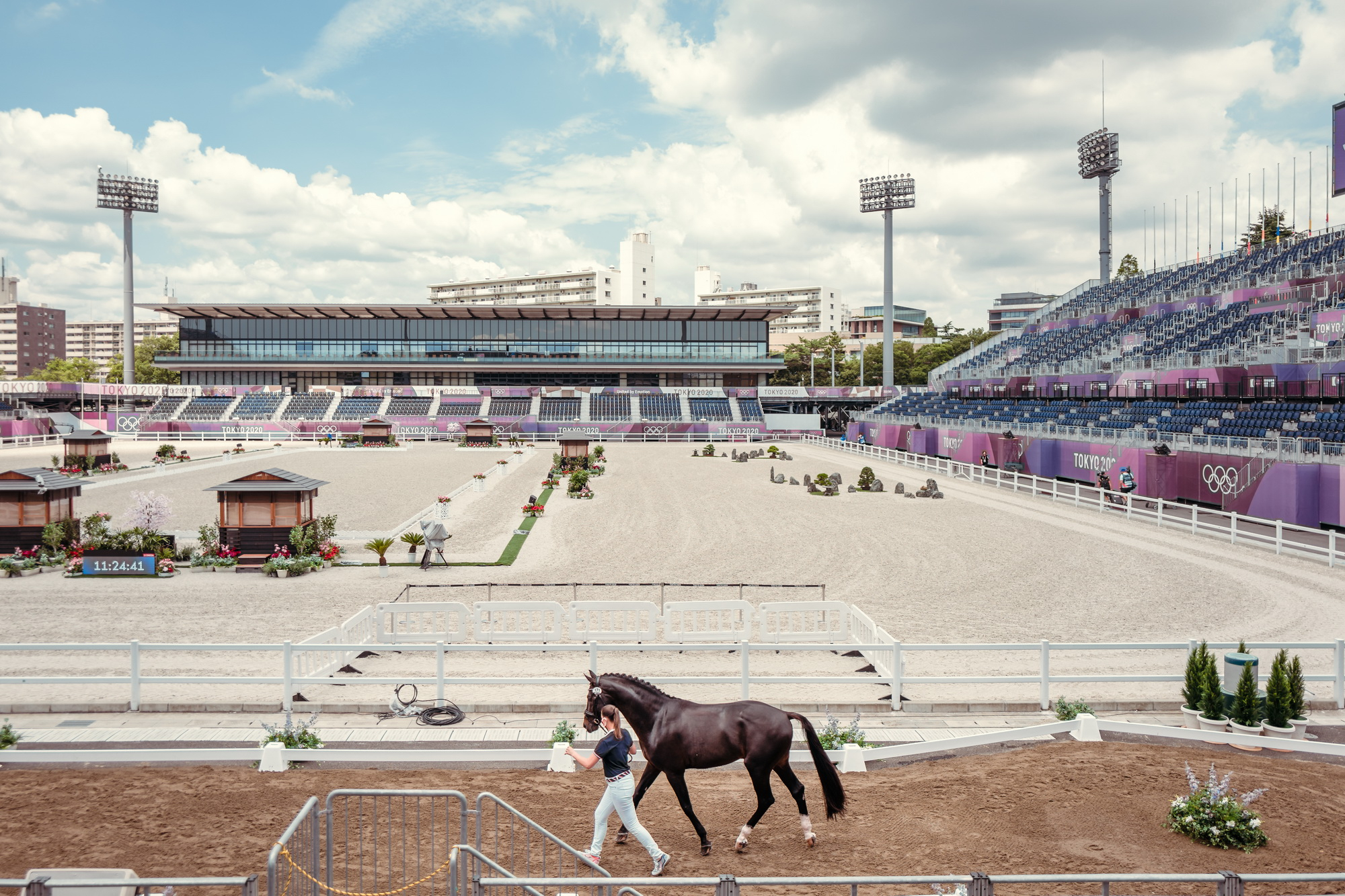 FEI/Christoph Taniere
Dressage horses put their best hoof forward to get Olympic Equestrian events underway
Photo caption: America's Adrienne Lyle and Salvino at the Dressage horse inspection today in the stunning Baji Koen Equestrian Park where the equestrian events of the Tokyo 2020 Olympic Games get underway with the Dressage Grand Prix tomorrow morning. (FEI/Christoph Taniere) 
By Louise Parkes
Brazil's Joao Victor Marcari Oliva and his 12-year-old stallion Escorial will be first into the arena tomorrow morning when the Dressage Grand Prix gets equestrian action underway at the Tokyo 2020 Olympic Games.
The Dressage horse inspection took place this morning at Baji Koen Equestrian Park, and from the 72 listed, a total of 70 horses were presented to the Ground Jury with two held over for further reinspection tomorrow morning at 09.30 - the 14-year-old Hot Chocolat vd Kwaplas ridden by Isabelle Pinto for France and the 15-year-old grey gelding Sultao Menezes ridden by Portugal's Carlos Pinto.
The Grand Prix is the Team and Individual qualifier and will take place over two days, tomorrow 24 July and Sunday 25 July. A draw took place after today's horse inspection, and the 15 teams will go in the following order: Denmark, Japan, Australia, Great Britain, Sweden, Netherlands, Spain, Portugal, Canada, ROC, Austria, Belgium, France, USA and Germany. Team Germany are defending champions and are chasing down their 14th Olympic team title.
Groups
Athletes are drawn in six groups, with three groups per evening. A total of nine athlete/horse combinations will go in the first group that includes Australia's Mary Hanna with Calanta and Great Britain's Charlotte Fry with Everdale, with competition starting at 17:00.
The Netherlands' Edward Gal will be first to go when the second 10-strong group take their turn at 18:36, and Denmark's Cathrine Dufour and Bohemian will conclude this session. 
Rounding up the day will be another group of 10, with Germany's Jessica von Bredow-Werndl and TSF Dalera last into the arena at 21.42. 
Another three groups of 10 will compete on Sunday to identify the top eight teams that will go through to Tuesday's team medals decider, with world number one Isabell Werth last to go on the mare Bella Rose. And, for the individuals, the top 18 will going through to next Wednesday's Freestyle for the individual medals.
Great praise
The top-class facilities at the Japan Racing Association owned Baji Koen, which include air-conditioned stabling, a stunning competition arena and beautiful training areas for the horses, have drawn great praise from the athletes who are now looking forward to superb sport over the coming days. 
There's a mix of excitement and relief that these Games, which have been doubly-challenged by the Covid-19 pandemic and the Equine Herpes Virus (EHV-1) outbreak in mainland Europe, are at last about to begin.
"We are so grateful to be here in Tokyo and owe a big debt of thanks to our hosts, the people of Japan, and of course to the Tokyo 2020 Organising Committee and the IOC for maintaining their belief in the Olympic Games and finding the route to deliver them in a safe and secure way", FEI President Ingmar De Vos said. "Our athletes and our horses are ready, our venues are superb, we have amazing volunteers and we're ready for top Olympic equestrian sport, starting with the Dressage Grand Prix tomorrow!"
Don't miss a hoofbeat! Live results and start lists are available here: https://tokyo2020.live.fei.org/