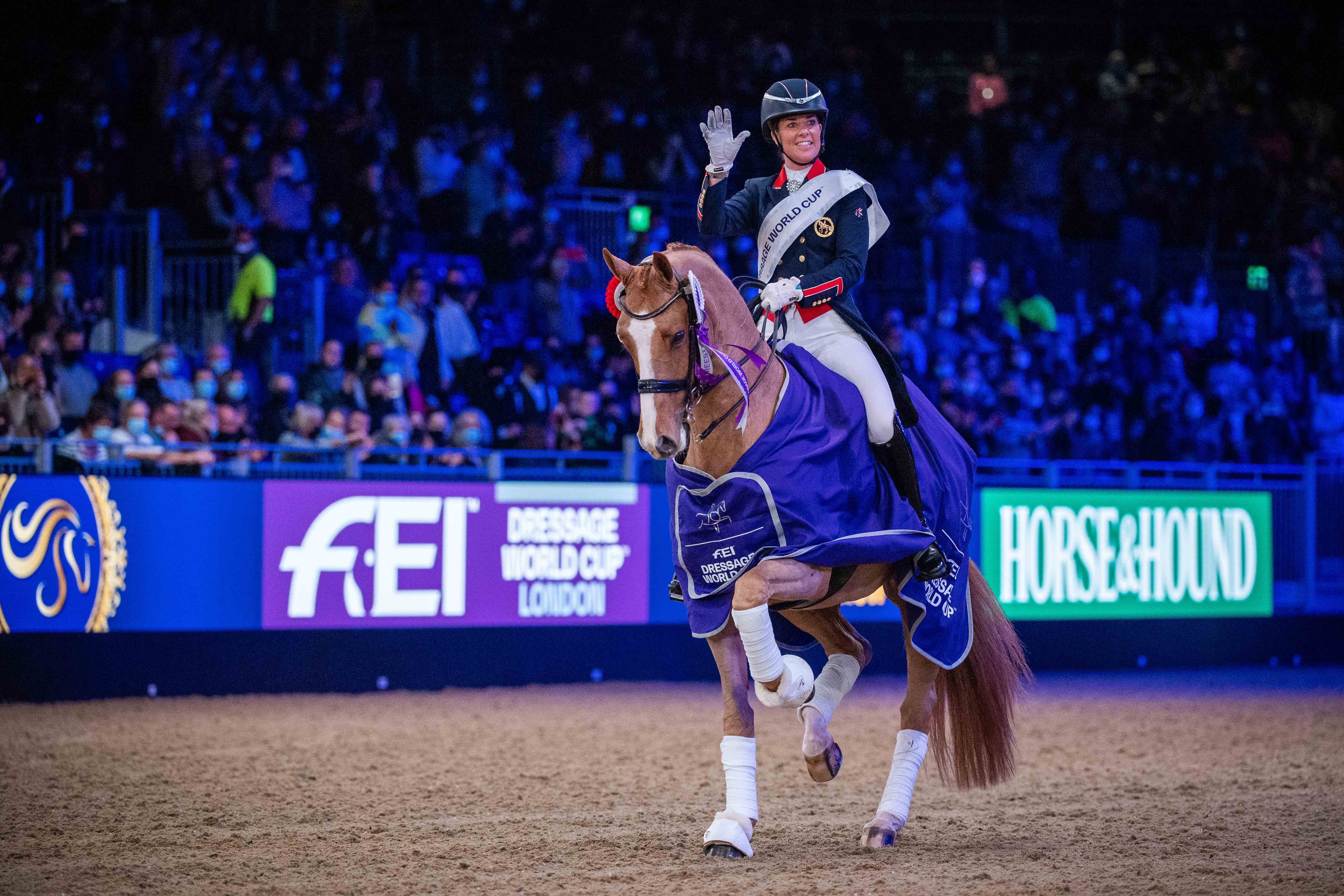 Jon Stroud (FEI)
Dujardin and Gio delight the London crowd
FEI Dressage World Cup™ 2021/2022     Western European League
By Louise Parkes
Picture caption: Great Britain's Charlotte Dujardin and Gio won tonight's fourth leg of the FEI Dressage World Cup™ 2021/2022 Western European League in London (GBR). (FEI/Jon Stroud)
As three-time Olympic gold medallist Charlotte Dujardin said tonight, there's nothing quite like a big win in front of the home crowd. The 36-year-old athlete and the brilliant little gelding Gio certainly gave spectators a treat when sweeping to a last-to-go victory at the fourth leg of the FEI Dressage World Cup™ 2021/2022 Western European League in London (GBR) with a test that simply sparkled.
The horse was sold following the pair's spectacular summer of success that included taking team and individual bronze at the Tokyo 2020 Olympic Games in July and team silver and Freestyle bronze at the FEI Dressage European Championships in Hagen (GER) in September, but were re-united for one final performance together at their home fixture this week. And the crowd were treated to an exhibition of precision and partnership that earned a personal-best Freestyle score of 89.040 tonight.
Runner-up spot went to Dujardin's Tokyo team-mate Charlotte Fry riding Dark Legend, while Germany' Frederic Wandres and Duke of Britain slotted into third.
First
Wandres, who rides for Hof Kasselmann in Hagen where the 2021 European Championships were staged, was the first to score over 80 percent and that mark could have been higher but for a mistake in the two-tempi changes. Fourth-last to go, Denmark's Nanna Skodborg Merrald and Atterupgaards Orthilia followed him into the ring and looked set to pose a strong challenge, but the pair who were members of the Danish European bronze-medal-winning team were eliminated at the very end of their test for blood in the mare's mouth.
Britain's Fry was next in and raised the bar with a fabulous performance from Dark Legend, the 13-year-old gelding with which she won the European U25 Championship title back in 2018. It has been a dream year for this 25-year-old rider who, with the 12-year-old stallion Everdale, competed alongside Dujardin on the British teams in Tokyo and Hagen, and tonight Dark Legend showed he wasn't to be outdone when moving to the top of the scoreboard with just two left to go.
But when the penultimate British duo, Richard Davison and Bubblingh, put 76.910 on the board then it was all eyes on Dujardin and Gio who were always expected to make a big impact, and they didn't disappoint. The little chestnut horse seems to take everything in his stride, and although still a relatively unexposed 10-year-old he continues to grow in confidence and ability. Yesterday he was convincing winner of the Short Grand Prix and tonight he listened to everything he was asked to do and presented a glorious picture of a great athlete who is really comfortable in his own skin as he executed a truly exacting test.
In Tokyo he earned a mark of 88.513 for Olympic Freestyle bronze, tonight he bettered that by more than half a percentage point with a score of 89.040 that included 10 maximum scores of 10 and multiples of 9's and 9.5's while Dujardin gave another of her masterclasses of sensitive and professional riding.
Special
"He truly is a very special horse. This year he did his very first Olympics, his very first Europeans and now he's just finished off by winning the World Cup here at the London International Horse Show. What a legend!"
Charlotte Dujardin (GBR) she said tonight.
Like most athletes, she thrives in front of a home crowd - "there's nothing like riding at home and having your own crowd cheering you on. I've really missed everyone and I'd like to thank you all very much for coming and supporting!", she said during the prizegiving ceremony.
And she's really pleased with how Gio has developed. "He has come on so much and so quickly this season, and finishing the year with two personal bests here in the Short Grand Prix yesterday and the Freestyle tonight is amazing. He has shown what a great horse he really is!", she added.
However he'll be going back to his new owner, British junior rider Annabella Pidgley, now. Dujardin said the new partnership is "magical to watch - she (Annabella) is an amazing up-and-coming rider, so next year is going to be very exciting!", she pointed out.
Incredible
Meanwhile Fry said she also really enjoyed performing in front of the London spectators tonight. "It was incredible - even before you ride your test the crowed is cheering for you. It's a wonderful feeling and I don't think the year could have ended up any better!", she said.
And Frederic Wandres was happy too. He found it a struggle to make the trip due to both Brexit and Covid regulations, but he was determined it would happen. "We really wanted to be here - I have such good memories and I really wanted to get Duke of Britain here again!", said the 34-year-old athlete who, with the same horse, previously won the London leg of the series in 2018 which seriously boosted his profile.
Today's third-place finish has further enhanced the firm lead he had already established on the Western European League leaderboard and, going into the fifth round of the eight-leg series in Amsterdam (NED) next month he carries 65 points and looks well set for the FEI Dressage World Cup™ Final 2022 which will take place on his home soil in Leipzig (GER) next April.
Don't miss a hoofbeat.....