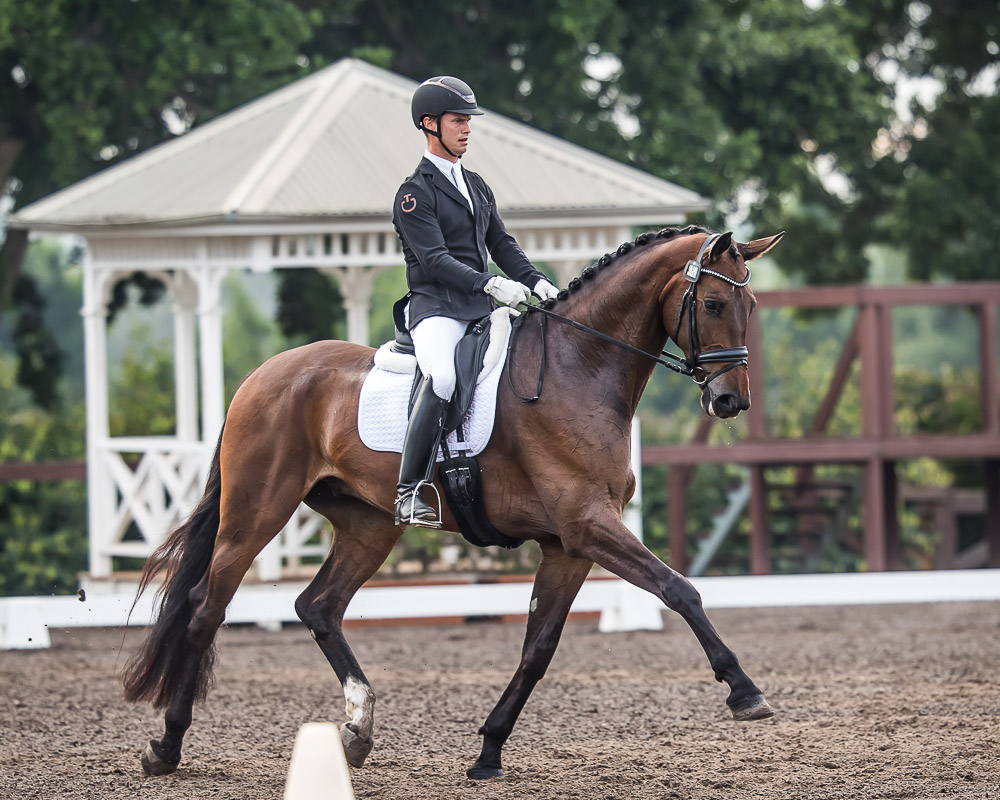 Stephen Mowbray
Elliot Patterson and Santiago
By Suzy Jarratt
This new Grand Prix combination is preparing to make its mark at the CDLite in Sydney – and later upon dressage arenas around Europe.
As 5* judge Christof Umbach stated in a recent press release: "Australian riders are hampered by their country being so isolated but it's really important they have opportunities to compete against the best, so they need to travel to Europe or the U.S. and go up against the internationals. This is expensive, I know, but I think it is really the only way."
Based in Queensland, at The Pines Performance Centre in Moggill, Elliot was offered the ride on Santiago a few weeks ago. Originally owned and trained by Matthew Dowsley this 12-year-old gelding, by Sandro Hit out of a Florestan 1 mare, was sold to Emma and Paul Weel from the Gold Coast who would like to see their horse compete overseas. 
Matthew had been showing Santiago for them at Grand Prix level but didn't want to leave his business in the Southern Highlands 
"I've had my time away," he said. "I've some nice horses at Woodside and I thoroughly enjoy training and showing here. I suggested that Elliot could do the job. I've helped him for many years with different horses and have a lot of respect for him. He's great to teach, has a lot of talent and I like his humility."
Thirty-year-old Elliott hasn't competed overseas, "but I've been to Germany many times for training and working trips." And he was with his partner, Alexis Hellyer, when she went to America with Floreno for the 2018 WEG.
"I think it's important that Australia-based riders experience that standard of competition whether it be by actually participating or just spectating," he added.  "For young riders I believe it's crucial they make the effort, where possible, to train and work internationally.
"At this stage the plan is to go to Germany with Santiago."
And how did he feel a few weeks ago about making his debut on the horse at Grand Prix level?
"I was a little nervous to be honest. It's not easy riding your first GP on a horse with which you're still developing a partnership. Thankfully Santiago helped me through it so the result was great (first place with 71.85%). He's quite intuitive, and sensitive in a good way and has a very personable nature. 
"And it was great having the support of Matthew on the ground.
"We're looking forward to the CDLite where Santiago and I will be riding our third GP together; and Alexis will be competing our two horses, Valhalla and Danearys, in the Small Tour, and our Hanoverian stallion, Fidibus, in the six-year-old class."