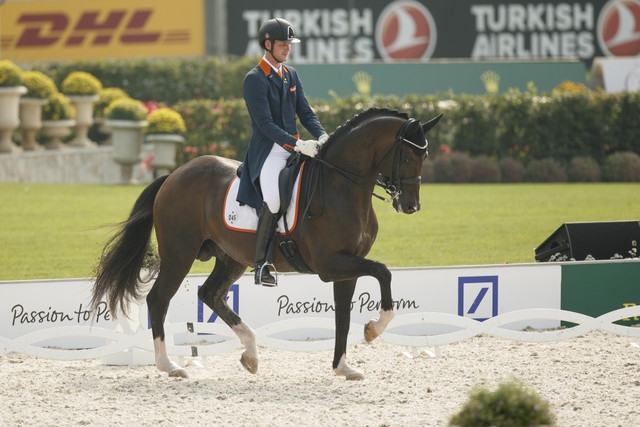 FEI/Dirk Caremans
FEI European Championships Aachen 2015 - Dressage Day 1
Photo:  A super test from Diederik van Silfhout and Arlando NOP placed them top of the individual rankings and put The Netherlands in temporary silver medal spot when the first of two days of competition to decide the team medals at the FEI European Dressage Championships 2015 took place in Aachen, Germany today. 
FEI YouTube: https://www.youtube.com/watch?v=B5gtzrprzHw
Germany holds the advantage after Day 1 of Dressage
by Louise Parkes
Germany holds the lead after the first of two days of competition to decide the team medals at the FEI European Dressage Championships 2015 in Aachen, Germany today. It certainly isn't unexpected, as the host nation and defending champions are bidding to clinch the title for the 23rd time. Jessica von Bredow-Werndl got them off to the perfect start when posting a score of 75.200 when last to go before the lunch-break. "I had two little mistakes, but I'm really pleased...I think 75 percent is a good base for the rest of the team" the 29-year-old said. 
However the Netherlands are in hot pursuit thanks to a super test from Diederik van Silfhout and Arlando NOP that put them top of the individual rankings. Fifth-last to go this afternoon, the dark bay stallion was smooth and rhythmic, maintaining a great shape to earn 75.800. And when added to the 72.400 earned by team pathfinders Patrick van der Meer and Uzzo, the Dutch score of 148.214 leaves them only 1.886 percentage points behind their hosts at the head of affairs. Van Silfhout was delighted that his young stallion showed such composure under pressure today. "He's only 10, and how he has improved in one year, I couldn't be happier! He's a horse with a lot of potential and a big future if he stays safe and sound." And he knew he needed a good result. "Patrick did a very good test but his points were a bit disappointing, so then you know you have to do a good test otherwise the medal is gone, so there was a little pressure" said the 27-year-old rider.
Really challenged
Great Britain lies third, another 2.471 points further adrift after Fiona Bigwood really challenged for the individual lead when posting 75.800 with Atterupgaards Orthilia. The 39-year-old wears a patch over her right eye which was damaged in a fall from a young horse last year. As a result she has double-vision, and the patch helps her to focus.  "It's harder to judge the bend to the right, and I can't always see where the horse's neck should be" she explained. It hasn't affected her competitiveness however. "I knew I had to pull out a mark to get a medal. It's only the sixth international for this horse, she's not that experienced, so how much do you ask? She was really worried the last few minutes before going in, so we are over the moon with her result!" she said. Added to Michael Eilberg's 69.943 with Marakov, Bigwood's score brought the British tally to 145.743, more than five percentage points ahead of Sweden in fourth place.
Swedish chances took a blow when their star partnership of Minna Telde and Santana had to settle for a relatively modest score of 68.714. The much-loved 14-year-old stallion lost an eye some years ago but has been enjoying one of the best seasons of his long career, taking three medals at the Nordic Championships and playing a key role on the winning team in the FEI Nations Cup™ at Falsterbo (SWE) this summer. "A big insect landed on his neck and I had to knock it off, but he was confused by it and then put his tongue over the bit" Telde explained. Like Evelyn Haim-Swarovski whose mare, Dorina, also had her tongue stuck out during the test, marks were much more difficult to get as a result. The 60-year-old Austrian, whose competition hat is beautifully adorned by Swarovski crystals, said "I'm disappointed, I know we lost of a lot of marks, but that's the sport!"
Surprised
The last rider of the day was Germany's Isabell Werth, who was surprised to receive a mark of 74.900 with Don Johnson FRH. " I was really disappointed when I heard my result because I expected more - the horse was in really good shape, just a mistake in the one-tempis, but I think all the others I have seen they had mistakes as well. I was here to ride 76/77 percent!" said the most medalled competitor in the sport. However her country is in the driving seat going into the second half of the team competition tomorrow when the two most talked-about dressage horses of all time will be in action - the black stallion, Totilas ridden by Germany's Matthias Alexander Rath, and the record-breaking British partnership of Charlotte Dujardin and Valegro. Dujardin's mentor and fellow-team-member, Carl Hester, talked today about the excitement and anticipation just hanging in the air.
"It's what everyone's been waiting for! Unfortunately with Totilas' injuries during the year these two horses don't get the chance to come together as the two greatest horses in the world at the moment...they look like they really will have a good head-to-head, and that's what people have been wanting to see. I feel sorry for the two riders, it can't be easy and it can't be nice to have to face each other like that in front of everybody, but that's sport isn't it? They've both had world records, Valegro holds them at the moment, but it was Totilas that first really brought dressage to the world. Even people that didn't understand it could appreciate what this horse is doing for the sport, so it's great. We all wanted to see him here, it doesn't matter who really wins - it will be the best one, and I hope they both go well because then we really will know what the judges think, who they like the best. I think they already know who it is, but we just have to wait and see!!" Hester said.
Score to settle
And of course there is a score to settle too. "It's going to be quite fun because we have something to lay to rest here", Hester said. "Probably 15 years ago I did my first Aachen and I've never had a good Aachen, I've never done well here and as everyone knows the only time poor Charlotte has been beaten was in Aachen as well. So both of us have come here very positive and pulled ourselves together and said it absolutely makes no difference that its in Aachen this year, we will do it!" However his lack of luck at the German fixture struck again yesterday when he had a fall from his gelding, Nip Tuck. 
'I finished my training and I thought I'm gonna go walk round the big grass field over there with the eventers and have a little chat with them. And, being a wimpy dressage horse, a waiter dropped a tray of glasses in front of me and my horse spun round and came down on top of me on the grass, left me flattened on the floor! And he shocked himself so much he didn't even bother to run off which was the great news, because if he got out in that field I don't think we would ever have caught him....so you could quite safely say I haven't had the best start to the week!" He'll be hoping his luck takes a turn for the better tomorrow as the final stages of the FEI European Team Dressage Championship plays itself out. 
For more information on the FEI European Championships 2015 in Aachen visit www.aachen2015.de.
Results FEI European Championships Aachen 2015 here
Facts and Figures:
The FEI European Championships 2015 began in Aachen, Germany this morning with the Dressage Grand Prix.
35 horse-and-rider combinations came before the judging panel of : At K, Susanne Baarup DEN; At E, Katrina Wuest GER: At H, Annette Fransen-Iacobaeus SWE: At C, Eduard de Wolff van Westerrode NED: At M, Jean-Michel Roudier FRA: At B, Anne Gribbons USA: At F, Andrew Gardner GBR.
Team Germany took the lead after the first day of Dressage, but only 1.772 percentage points separate the hosts from The Netherlands in second place while Great Britain is another 2.471 points further adrift in third.
The highest individual score in the Grand Prix, which is both the team competition and first individual qualifier, was posted by Diederick van Silfhout from The Netherlands who posted 75.814 with the 10-year-old stallion Arlando NOP.
Great Britain's Fiona Bigwood and Atterupgaards Orthilia lies second going into tomorrow's second half of the competition which will decide the team medals.
A total of 18 teams started in today's Grand Prix.  
Quotes:
Fiona Bigwood GBR: "My goal was a mistake-free test and to try and not have any lower marks. At the end (of the test) I could ask for the extended trot, it's a little bit like - do you go for the 9 and then end up with a four or do you go for a 7/8 - so in the end I just let her go." 
Diederick van Silfhout: "I was really happy because last year was his (Arlando NOP) first big championships, he was only nine and now - this year he's really strong enough to be here. 
Jessica von Bredow-Werndl GER (when asked if she was nervous before competing today): "Actually I was for the last few days,  but today I just felt happy to be allowed to go in there because it's the result of so many years of hard work, and it's an honour to be able to represent your own country in your own country."
Patrick van der Meer NED: "I made one mistake in the flying changes, it was my mistake. To beat the Germans, that will be a hard job, but we will do our best. I had a very good season with a lot of good results. I was here in Aachen before, in May, so that was already a good preparation and I had some nice other shows. Aachen is the most wonderful show to ride at!"
Emilie Nyrerod SWE: "It was so much fun, the audience was fantastic. (Coming into the test) "I was quite cool, more cool that I thought I would be! Of course I was a little bit nervous when I walked in here, but when I got to the arena it all disappeared!"
Audio:
Fiona Bigwood  GB
http://www.lloydbell.co.uk/access/client_zone/FEI_Aachen_Bigwood_day1.mp3
Isabell Werth Germany
http://www.lloydbell.co.uk/access/client_zone/FEI_Aachen_Werth_day1.mp3
Diederik Van Silfhout  The Netherlands
http://www.lloydbell.co.uk/access/client_zone/FEI_Aachen_Silfhout_day1.mp3
Jessica Von Bredow-Werndl Germany 
http://www.lloydbell.co.uk/access/client_zone/FEI_Aachen JVBW_day1.mp3
Patrick Van Der Meer The Netherlands 
http://www.lloydbell.co.uk/access/client_zone/FEI_Aachen_Vandermeer_day1.mp3
Emilie Nyrerod Sweden 
http://www.lloydbell.co.uk/access/client_zone/FEI_Aachen_Nyrerod_day1.mp3