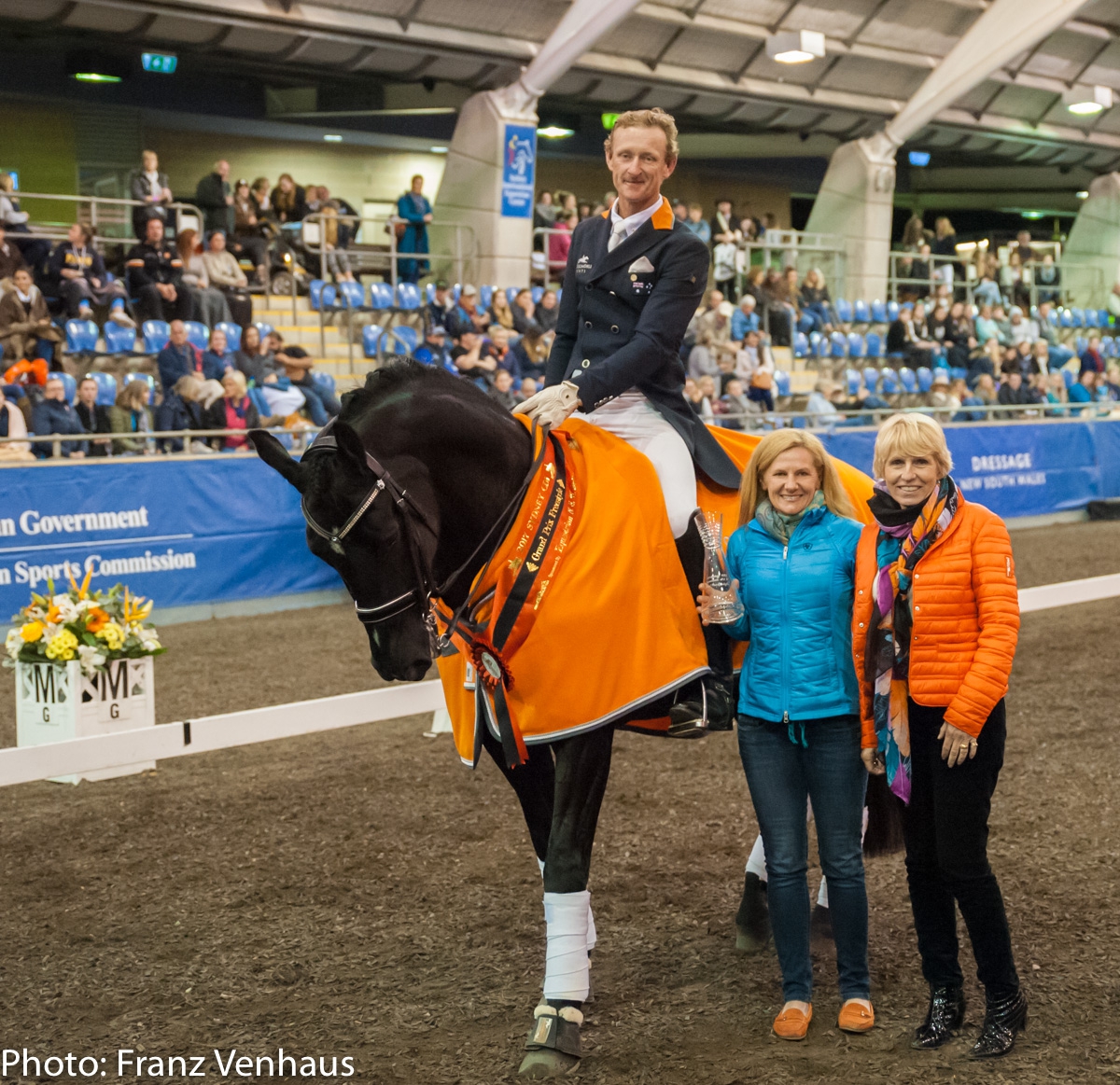 Franz Venhaus
Final day at the Sydney CDI
By Scott Pollock
Like every year, the third day of the Sydney slowly gathers momentum throughout the day to climax with the Equestrian NSW FEI Grand Prix Freestyle. The gates open as the sun rises and the crowds increase as the day unfolds.  Many finals and freestyles were held on the last day which basically means pressure on both horse and rider is heading to the pointy end of the competition. 
At 8am the first competitor entered the arena, competing in the SAP Intermediate II (CDN). Matthew Dowsley who has had a 'WOW' of a Sydney CDI, managed to, once again, be the first to get over the line was Cheryl Smith's stallion, Don De Sandro 67.842. One could say Matthew won this by a nose as the next three placegetters were all within .9 of a point behind him - Sue Hearn on Jude came in second, Alycia Targa on CP Dresden  was third and one of Australia's best riders, Rozzie Ryan on Adonie came fourth. 
The Mulawa Performance FEI CDI - U25 Grand Prix Freestyle is always a great chance to have a look at our young riders who have worked hard to be able to compete at the highest level of dressage - the Grand Prix.  There are only a handful of riders who get to this level. All horse and rider combinations managed to score above 60 but it was Katherine Farrell on the extremely expressive gelding, Luxor 118, that won the competition with a score of 72.345.  A score that could be envied by experienced Grand Prix riders. 
By early afternoon the indoor arena had started to fill to watch the Hanoverian Horse Society of Australia, NSW Young Dressage Horse Championship Finals which consists of three classes - 4yo, 5yo and 6yo. The top three placegetters from previous rounds  for each age group were ridden by guest rider, Melanie Campbell, and judged by three International judges, Christof Ubach (LUX), Katrina Wuest (GER), Susan Hoevenaars (AUS).   Melanie has an impressive CV which includes being a professional rider at the world renowned Hannoveraner Verband e. V. stables in Verden.  The results of the finals can sometimes be quite different to the previous rounds as the  horses are then being ridden by a guest rider. This adds another level to the competition - they not only have to be able to show off their talents under a familiar rider but also under unfamiliar rider. After the rigorous judging, Gina Montgomery on Iresias L won the 4yo class, Danielle Dierks on Revelwood Desmond won the 5yo class, and Brett Parbery on Yaramee  Serendipity won the 6yo class. 
As the evening session was sold out, people were streaming in all afternoon. The Trade Village was bustling with happy shoppers and the bar and food venders were in demand. The atmosphere was building. At 4.30, the indoor arena hosted the Zilco International, Intermediate Freestyle Competition (CDI).
With an incredibly precise and powerful performance, Mathew Dowsley aboard AEA Prestige, once again took first place, scoring 72.040. Second went to Sally Evans on A Spider Bite, and third was Jessica Robinson on her flamboyant horse, Remi Beelzebub. 
Light entertainment in the form of a quadrille competition took over the main arena prior to the final competition. Top hat and tails, a John Travolta impersonator, rearing horses and flowing wigs took centre stage and all to tunes that took you back in time - YMCA by the Village People, theme song from James Bond and Saturday Night Fever filled the arena. The riders jeered and the audience responded. A good time for all. 
With a full house, the first competitor for the Equestrian NSW, Grand Prix Freestyle Competition entered the arena to a supportive crowd. The second horse and rider, Lesley Anne Taylor on Amicelli Gold did a very expressive and consist ant test that scored her a 69.735 that kept in first position till Heath Ryan and Utopian Cardinal crept past them with a score of 70.155, breaking the 70 mark. 
The scores slowly progressed from there till it peaked with Brett Parbery on DP Weltmieser taking 1st position with a score of 74.57. Matthew Dowsley on Adloo Richard came second (72.00) and Judith Dierks on Diamond Star securing third place (71.825). 
It was great to see that the Sydney CDI is still attracting crowds and delivering Australia a premier International dressage competition. Congratulations to all involved.