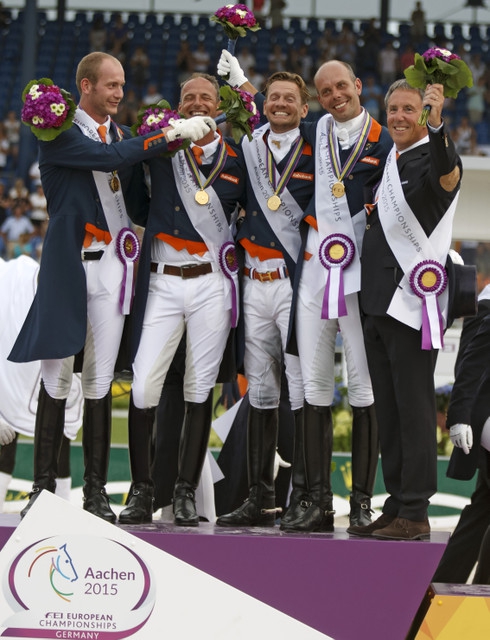 (FEI/Dirk Caremans
Gal leads Netherlands to third European team title
FEI European Championships Aachen 2015 - Dressage Day 2
Aachen (GER), 13 August 2015
Photo Caption: The Netherlands claimed the FEI European Dressage Championships 2015 team title at Aachen, Germany today. On the podium: Diederik van Silfhout, Patrick van der Meer, Edward Gal, Hans Peter Minderhoud and Chef d'Equipe Wim Ernes. 
FEI Photo Catalogue: images for editorial purposes are available free of charge from www.feiphotos.org 
FEI YouTube: https://www.youtube.com/watch?v=M56XiTxS5dg&feature=youtu.be
Gal leads Netherlands to third European team title
By Louise Parkes
The Netherlands claimed team gold ahead of Great Britain in silver and Germany in bronze at the FEI European Championships 2015 in Aachen, Germany today. It was a cliff-hanger of a competition, with the result decided by a superb performance from Edward Gal and Glock's Undercover NOP. However Great Britain's Charlotte Dujardin and Valegro produced the biggest score of the day, posting 83.229 to finish more than half a percentage point ahead of the Dutchman.
Today's result has also decided the last three European qualifying spots for the Rio 2016 Olympic Games, and it is Spain, Sweden and France, who lined up fourth, fifth and sixth respectively, that have made the cut. 
The Spanish really pulled it out of the bag today, Morgan Barbancon Mestre putting in a poignant performance with Painted Black on the final event of the 18-year-old stallion's career, while Beatriz Ferrer-Salat, silver medallist at the Olympic Games in Athens in 2004, boosted their chances when slotting into individual fifth spot with Delgado. 
This was The Netherlands' third time to take European team gold, and their first time to field an all-male side. They made history when breaking the German stranglehold on the title in 2007 and then did it again two years later, before the British broke the mold once again in 2011. Dutch Chef d'Equipe Wim Ernes said recently that he expected his side to take team bronze at these championships, so when asked this evening what he thought of that now, he replied "that was a few weeks ago, since then we just practiced and got better, and so today we won!"
Had the advantage
Team Germany had the advantage as the competition resumed this morning, but when Hans Peter Minderhoud went to the top of the scoreboard with a mark of 77.856 with Glock's Johnson that tipped the balance in The Netherlands' favour.  
He was followed into the ring by Britain's Carl Hester whose gelding, Nip Tuck, was a little unsettled through parts of his test. "But he's so consistent, he's never had under 70 percent" said the London 2012 Olympic Games team gold medallist after posting 75.400.
Three horses later you could feel the electricity in the air as Germany's Matthias Alexander Rath and Totilas took their turn. They were expected to secure their country's position at the top of the leaderboard, but their mark of 75.971 always looked vulnerable. The German rider said afterwards that "the piaffe could have been more active", expressing surprise at his score. But only two horse-and-rider combinations broke the 80 percent barrier today, and the first of those was ridden by Gal, the man who produced Totilas to become the first super-star horse of the sport of Dressage before the stallion's sale to Germany in 2010. 
Sensitivity
Gal has often struggled to contain Glock's Undercover's sensitivity and anxiety, but today the 14-year-old stallion showed exactly what his rider always said he could do. The judges clearly relished the utter consistency of the horse's passage and piaffe, the steadiness of his tempi changes and the smoothness of the canter work when awarding the new leading mark of 82.229. That promoted the Dutch into an even stronger position, and although British stars Charlotte Dujardin and Valegro would better that by 0.8 percent, it was the Dutchman who took centre stage at the post-competition press conference having clinched it for his country. 
The final Dutch score was 235.629 but it was a close-fought affair with the British runners-up just 1.4 behind while the Germans were more than three points further adrift in bronze medal spot.
Asked how he produced such a confident test under extreme pressure today, Gal explained, "I think it's the experience my horse has now, he's done more big competitions, he did Las Vegas (Reem Acra FEI World Cup™ Dressage Final), and that was impressive for him. Here, when you are in the ring you don't notice so much around you because there are so many judges houses that you can't see out anyway!" he joked. 
"But no" he continued, "for him it was quite a good atmosphere. The people are far away, and in the ring it was really quiet, it felt good and that gives him the confidence, and gives me the confidence that he is quiet and I can ride  - and that makes an amazing test!" he explained. "I think we are the happiest team here!" Gal added, and Carl Hester responded, "I think that's true - we have a great team too, but we're not as happy as you!" 
Happy mood
Germany's Isabell Werth was also in a happy and sporting mood even though that 23rd FEI European Dressage team title had slipped from her country's grasp. "It was our goal to come first, but it's boring to win all the time and much more exciting to come third and to have to start again next year!" she joked. "To be honest we tried our best, but in the end we missed some things...we were not as good as we can be, and I think the third place was right. Congratulations to the Dutch and the British - but be careful" she warned with a smile, "we want to come back, we will do our homework and next year we will do a better performance!" 
Next year is on everyone's mind as today's result has given all of the teams an indication of what they need to do if they want their Olympic dreams to come true. And this evening the judges for the Rio 2016 Olympic Dressage competitions were confirmed. Brazil's Maribel Alonso was already named as President and today's draw means that she will be joined by Stephen Clarke (GBR), Gary Rockwell (USA), Edward de Wolff van Westerrode (NED), Peter Holler (GER), Thomas Lang (AUT) and Susanne Baarup (DEN). First reserve for the Rio Ground Jury is Annette Fransen-Iacobaeus (SWE) with Isabelle Judet (FRA) as second reserve.  
For more information on the FEI European Championships 2015 in Aachen visit www.aachen2015.de.
Results FEI European Championships Aachen 2015 here
Facts and Figures:
The Netherlands claimed the FEI European Dressage Team Championship title today for the third time in the history of the event.
Great Britain took silver and the defending champions from Germany claimed the bronze.
All three medal-winning nations are already qualified for the Rio 2016 Olympic Games so the teams placed fourth, fifth and sixth - Spain, Sweden and France - have earned the three available qualifying spots on offer at these Championships.
The highest score of the day today was produced by the British star partnership of Charlotte Dujardin and Valegro who posted a mark of 83.029.
Only two riders scored over 80 percent - Dujardin and Gal who earned a mark of 82.229 with Glock's Undercover.
This was The Netherlands third FEI European Dressage Championships team title. They previously topped the podium at La Mandria, Spain in 2007 and again in 2009 in Windsor, Great Britain.
 Quotes:
Charlotte Dujardin GBR, talking about her performance with Valegro: "I'm a little bit annoyed with myself. The zigzag, that was a bit my fault and it was still on my mind when I went into the changes and my two-times, double marks gone there...but the beginning of it felt really good. I don't think there's been many horses that have gone in there and not made mistakes, it was just unfortunate that it probably cost us the gold. At this top end you can't afford to make any mistakes. But we all go in there to try out best and enjoy it, and that's what we did."
Matthias Alexander Rath GER: "Riding into the arena at Aachen is very special, when the spectators applaud it gives you goose-bumps!"
Tinne Vilhelmson SWE talking about her performance with Don Auriello: "the most important thing was Olympic qualification and I was a little bit worried that he (Don Auriello) might react when he came in, so maybe I was slightly on the careful side, but otherwise it felt great. I did get a mistake in the one-tempis, we only did 13 and I don't really know why, I had a super feeling I was actually just thinking that it would go great and then he didn't take my aids. The good side is that he stood still in the halt which we often have difficulty with, especially if there's tension, and that can be expensive, so I'm happy that he was totally not impressed in there."
Audio:
Matthias Alexander Rath Germany 
http://www.lloydbell.co.uk/access/client_zone/FEI_Aachen _Rath.mp3
Carl Hester  GBR
http://www.lloydbell.co.uk/access/client_zone/FEI_Aachen_Hester_day2.mp3
Tinne Wilhelmson Silfven  Sweden
http://www.lloydbell.co.uk/access/client_zone/FEI_Aachen_Silfven.mp3