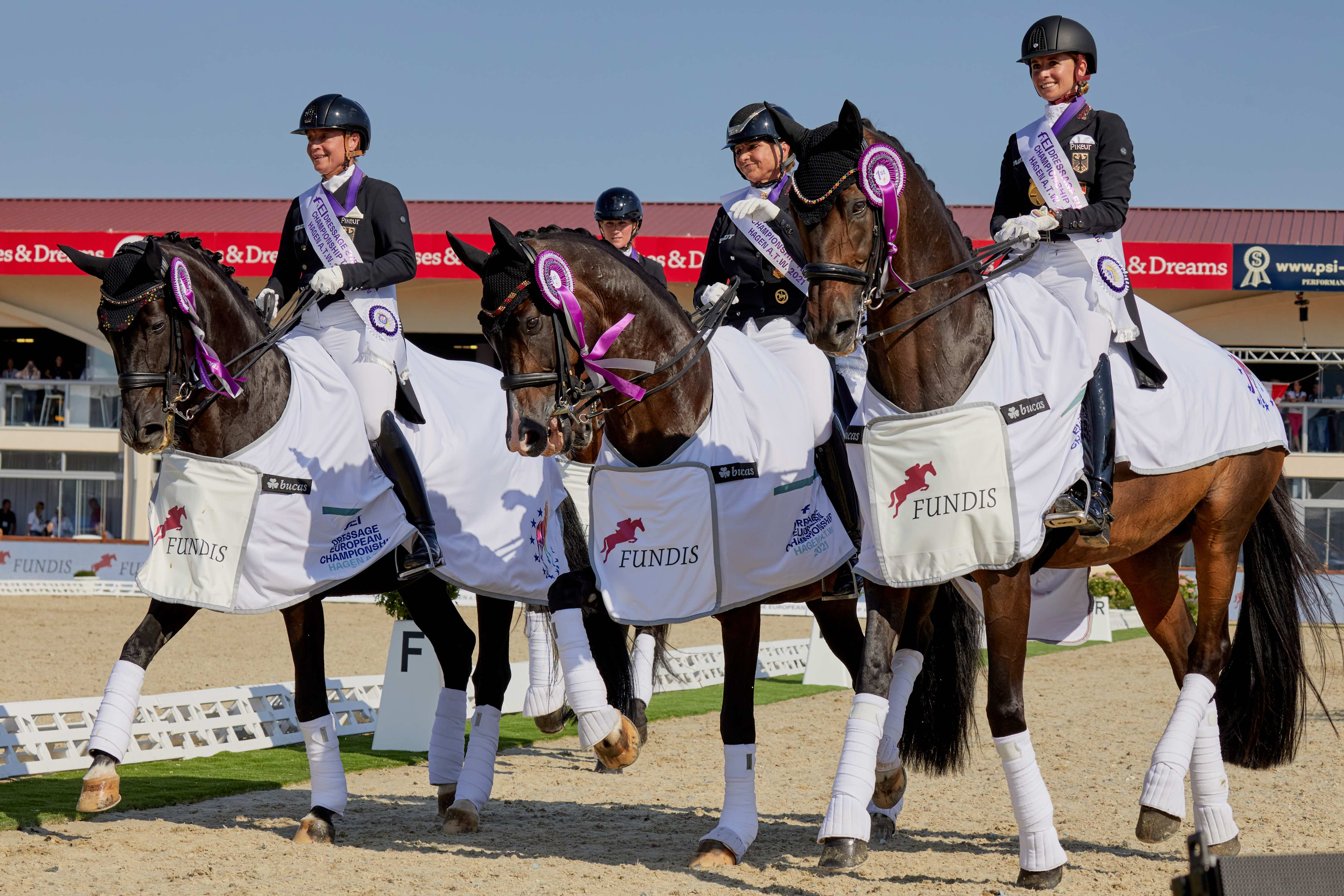 FEI/Liz Gregg
Germany grabs team gold yet again
FEI Dressage European Championship Hagen 2021
Photo caption: Celebrating Germany's 25th team title at the FEI Dressage European Championships 2021 in Hagen (GER) today - (l to r) Isabell Werth, Helen Langehanenberg, Dorothee Schneider and Jessica von Bredow-Werndl. 
By Louisa Parkes
In the history of the FEI Dressage European Championships, Team Germany has a formidable record. There have been 29 editions, and today they clinched the team title for the 25th time. 
Dorothee Schneider (Faustus), Helen Langehanenberg (Annabelle), Isabell Werth (Weihegold OLD) and Jessica von Bredow-Werndl (TSF Dalera BB) joined forces to pin Great Britain into silver and Denmark into bronze. It was the same side that took team gold at the Tokyo 2020 Olympic Games less than two months ago, but Langehanenberg was an alternate there and didn't get to compete. Only von Bredow-Werndl was riding the same horse, and she posted the biggest mark in today's Grand Prix to put the result beyond doubt.
The British were in the lead as the action resumed this morning, and Carl Hester was first into the ring for them, partnering En Vogue who earned a score of 74.845. 
Brilliant in parts
"The test was brilliant in parts and disappointing in others", he said. "Last night (leading the scoreboard) it actually looked quite exciting! That horse gets very big scores so we did think it would be good to have a really good shot at it, it doesn't always work like that and it didn't work like that today but he's come right back from the Games where he did three amazing tests with no experience. Some of the things he does are so brilliant that he makes himself a bit nervous", the British rider explained.
"I didn't deserve more points, there were too many mistakes, and I'm just disappointed I made mistakes because they weren't huge mistakes", he added, but he sees great development in the 12-year-old bay gelding now that he is getting more competition exposure. "What he's done in one year - he'd never have gone into that arena a year ago!", he pointed out.
It might have been a nervous night for some teams in Germany's situation, lying third after Schneider and Langehanenberg took their turn yesterday when Denmark slotted into silver medal spot. Daniel Bachmann Andersen was the first Dane to go today, producing a lovely test for a score of 76.366 with the gelding Marshall-Bell who is only nine years old. 
But then Werth and her mare Weihegold came into the ring and you could feel the changing tide even though the German legend clearly wasn't happy with her score. She had ridden a technically brilliant test for a mark of 79.860.
Superb
"We had just a little mistake at the end of the two-tempis where she was bit quick at the end, but the last centreline was superb so I was really happy. But a score under 80 percent. In the last three years I had just one competition with her under 80 percent and that was in Paris at the World Cup Final. But of course you have to take it sportingly….", she pointed out.
Denmark's Cathrin Dufour and Bohemian came really close to Werth's leading score, always forward and brave and chasing every mark. A blip in the first canter pirouette held them back from an even bigger result however. 
Dufour was a bit like Britain's Hester, happy and frustrated all at the same time. "It might be the best warm-up I've ever had, he felt fantastic, and it was almost hotter than Tokyo, but he felt really super!" she said. Several riders commented on the incredible heat that descended on the showgrounds at Hof Kasselmann today.
"We had a little misunderstanding earlier and I just managed to save it and then in the canter pirouette left he wanted to turn a tiny bit too much and I tried to correct him, maybe a little bit too roughly - he's a hot horse so he reacts really quickly but I think I managed to sort it quickly and we had a really nice second pirouette", she explained. The mark for the first was 3.6 but she was awarded a whopping 8.9 when the second pirouette came off really nicely. 
"Overall I'm really happy, of course a bit annoyed with that big mistake but we always have to try something new every time we go into the ring because we always want to develop. If you do the same you get the same so we have to try to push ourselves," she pointed out wisely, adding, "my team-mates have been great here, it's been a pleasure to watch them and it's a pleasure to have three of our riders above 75 percent - I can't remember when that happened last time for Denmark!"
Brilliant mark
Germany's von Bredow-Werndl was fourth-last to go in the final group and sealed the German deal with a brilliant mark of 84.099 for a test that oozed the kind of class that spectators have come to expect from her 14-year-old Olympic double-gold mare..
"She is amazing! She was on fire but still so focused and concentrated that I couldn't have asked for more. From the very first second to the very last second she didn't give me any doubt!""
Jessica von Bredow-Werndl (GER)
said the lady who has recently been named world number one. 
Asked if she felt under pressure because her team really needed a good score, especially with Britain's Charlotte Dujardin yet to start, she admitted she did, because the margins were still a little too close for comfort.  
"It was not as easy as it was in Tokyo because in Tokyo I only had to achieve 72 percent to win gold for the team. Today was a little bit more but anyway I'm always giving my best and so is Dalera!", she said.
Like so many of the other horses competing at the Championships this week, Dalera returned from Tokyo full of beans and still rearing to go. So much so that von Bredow-Werndl had to sit tight when starting her back in work after a short break.
"I had to make her keep walking for a few days because she was really bucking when we were hacking out!", she said. As Hester explained earlier in the day the trip to Japan certainly didn't seem to take much out of the Tokyo equine athletes. Peden International got permission for the horses to fly over Russia so their travel time was reduced by almost seven hours. "It made it so much easier for them", he said.
A huge pleasure
Last of the British to go, Charlotte Dujardin and her supersweet little 10-year-old, Gio, produced a lovely test that put 79.829 on the board. It slotted her into third individually, behind Werth in second and von Bredow-Werndl at the top of the order. Germany finished on a final tally of 238.944 and Britain's closing score was 232.345 while Denmark finished a very close third in bronze on 231.165.
Britain's Hester insisted today's silver medal finish was "a huge pleasure for all of us. Last night Charlotte did talk about the gold and hopefully it will happen again one day, but looking at the top you can see how experience carries the horses. Our team (of horses) at this age - we are thinking of the World Games in 2022 and Paris (Olympics in 2024) and we are just feeling so lucky to be winning medals!" he said.
With the team medals now out of the way, attention turns to tomorrow's Grand Prix Special. The rivalry is going to be really intense again, especially since the horses are now much more familiar with the lovely Hagen arena. There's lots more history to be made, and while von Bredow-Werndl and Dalera look set to sweep all before them over the coming days you could sense her senior compatriot's trademark determination to continue in her role as the Queen of international Dressage. 
Isabell Werth doesn't like being second to anyone, so maybe she might try a change of boots for tomorrow. In Tokyo where she won team gold and individual silver she sported a pair she has been wearing for 35 years - her "lucky boots". Asked today if the ones she was wearing were new, she said "no, they are my normal boots but not my lucky boots. So maybe that was the problem today!" 
Time will tell, and the excitement will continue when the Grand Prix Special gets underway tomorrow evening at 17.00.
Don't miss a hoofbeat…..