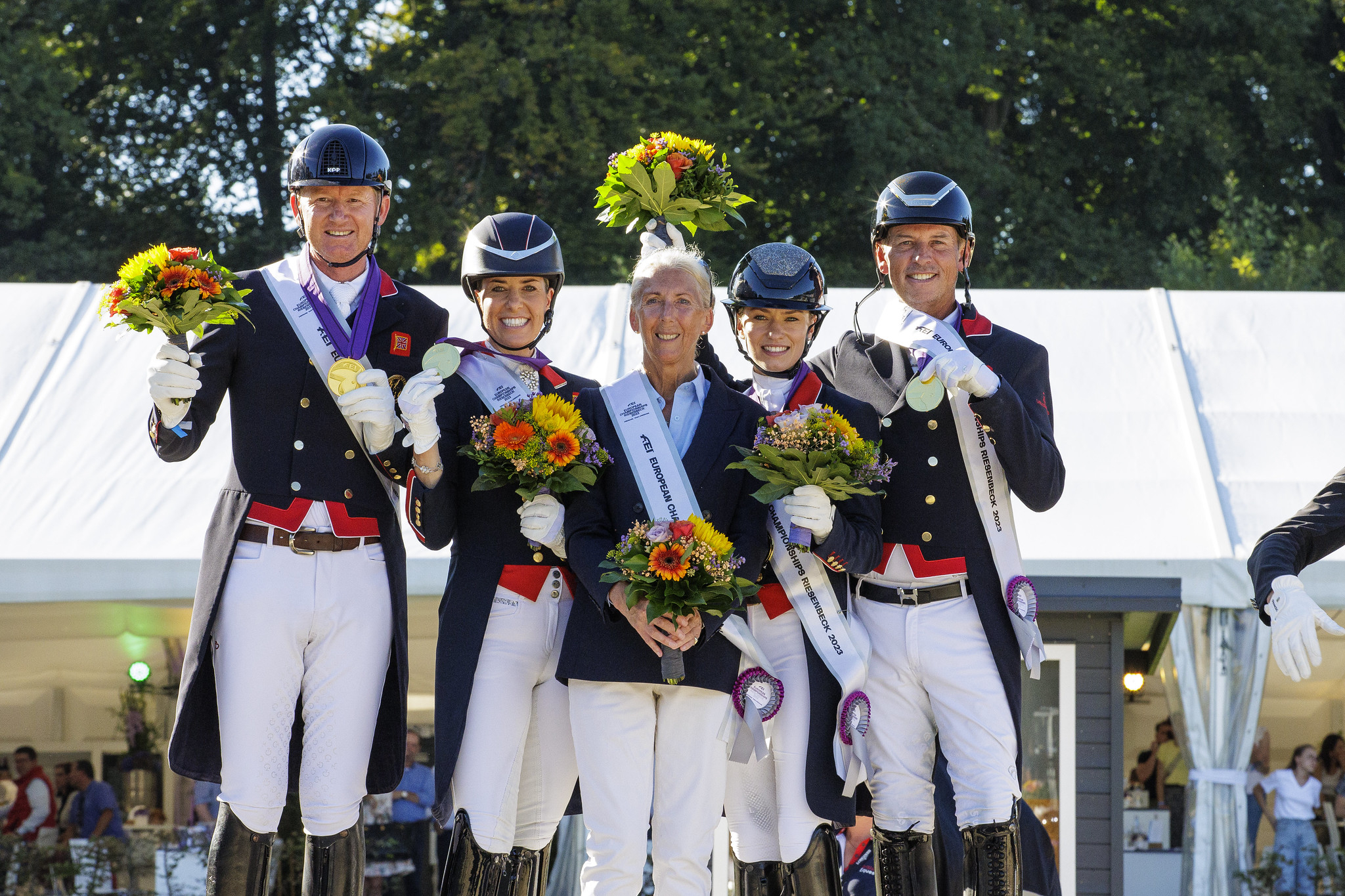 FEI/Leanjo de Koster
Great Britain takes European team gold on riveting day in Riesenbeck
Picture: Great Britain clinched team gold at the FEI Dressage European Championship 2023 in Riesenbeck (GER) today. L to R - Gareth Hughes, Charlotte Dujardin, Chef d'Equipe Caroline Griffith, Lottie Fry and Carl Hester. (FEI/Leanjo de Koster)
It was team gold for Great Britain at the FEI Dressage European Championship 2023 in Riesenbeck (GER) today where the hosts and defending European champions from Germany had to settle for silver medal spot ahead of the reigning World champions from Denmark in bronze.
Fantastic individual performances were the order of the day, with world number one, Germany's Jessica von Bredow-Werndl, posting the biggest score of the competition with the super-mare TSF Dalera BB when putting 84.612 on the board. But it was Lottie Fry's personal-best Grand Prix result of 81.258 with the stallion Glamourdale that clinched it for the British side, boosting them to pole position on a final tally 242.220 when the best scores from each team were added.
Germany completed on a total of 239.674 while Denmark rounded up their tally at 228.727. Sweden slotted into fourth place ahead of The Netherlands in fifth and France in sixth while Austria, Belgium and Spain earned the three Olympic qualifying spots up for grabs when filling the next three places in that order.
Fry was joined in the victorious British side by Gareth Hughes (Classic Briolinca) and Carl Hester (Fame) who strutted their stuff yesterday, and Charlotte Dujardin (Imhotep) who also produced a stunning performance today.
Raised the temperature
It was Germany's Frederic Wandres who first raised the temperature on a very hot day when producing a strong score of 77.888 with Bluetooth OLD under the midday sun. "It was so hot in there, but Bluetooth is used to the heat a little bit from competing in Wellington (USA). He has had two seasons there and every day it is 30 degrees so he is able to deliver very good scores in the heat. I think we showed a very harmonious ride and a consistent frame from the beginning to the end with no technical mistakes", he pointed out.  
But Britain's Charlotte Dujardin and Imhotep set a whole new standard when putting 82.422 on the board for a test in which they earned multiple scores of 9 and 10 and held the crowd spellbound.  
"The relaxation, the frame is getting better, he still has moments where it could be better but it all comes from experience. Just going through the test, for 10 years old that's done as little as he has, it really is amazing. It normally takes years and years to get them to that point. Last year I think he'd done maybe four or five Grand Prix before the World Games (FEI Dressage World Championship).
"He did just three shows before coming here and preparation-wise he needs to do more shows but smaller shows just to give him experience, but then he goes and does that! I love him to bits!" Charlotte Dujardin GBR  
The stallion was awarded six scores of 10 for his trademark and thrilling extended canter and the spectators will be looking forward to seeing it again in tomorrow's Grand Prix Special for which the top 30 individual riders have qualified.
Carl Hester threw down the British gauntlet yesterday with what he described as his "best test to date" with Fame.
"I've only been riding him for about nine months and I was absolutely delighted with him. My take-away from yesterday would be if I could ride the beginning of my test like I got to ride him at the end of the test that would help to get more points in there. He's a joy to ride, a joy to be around, and I'm very lucky to have him!", he said this evening.
Emotion
Team-member Gareth Hughes was filled with emotion. "We've been a team since 2019, Lottie - her career so far has been unbelievable, what the future brings is mind-boggling. We have Carl, he gets on a horse and he is just a master - he's been coaching me for 20 years. Charlotte, for me she's the best test rider in the world, it's just an honour to watch her today and it's an honour to be part of this team and all I can say is thank you!", he said. 
This was only Britain's second team gold in the 60-year history of the FEI Dressage European Championship. Dujardin, riding Valegro, and Hester, riding Uthopia were on that winning side in Rotterdam in 2011 and, a year later, they clinched team gold at the London 2012 Olympic Games. Today's result seems like a good omen a year ahead of Paris 2024.
But more immediately there is tomorrow's top-30 Grand Prix Special to look forward to and then the Freestyle finale on Sunday. Von Bredow-Werndl won both at the last European Championship in Hagen (GER) two years ago but she looks set to face stiff competition in defence of both of those titles, especially from her nearest challengers in the Grand Prix - Dujardin, Fry, Denmark's Nanna Skodborg Merrald with Blue Hors Zepter and Hester. 
The Special kicks off at 10.15 local time, so don't miss a hoofbeat…
Startlists and Results here