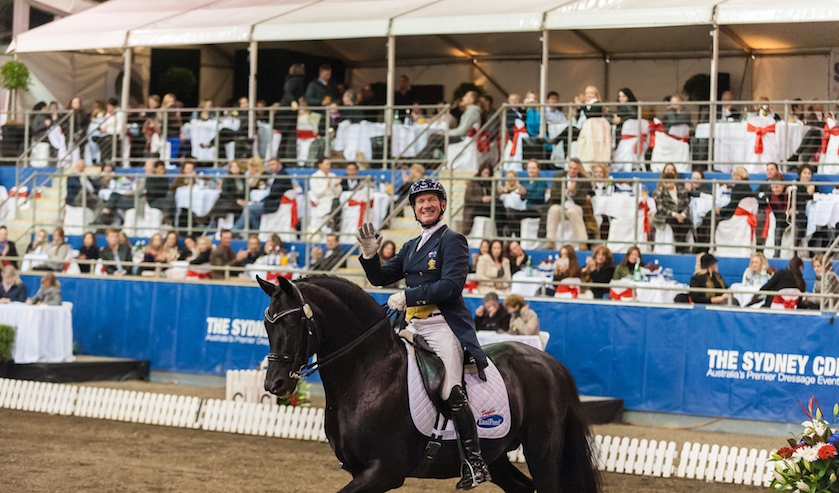 Franz Venhaus
Historic win for Heath Ryan at the 2014 Sydney CDI
By Michelle Cook, Equestrian Australia
The curtain has closed on the Sydney CDI for another year but not before an action packed evening of competition concluded with the crowning of Heath Ryan and Regardez Moi as champions of the Grand Prix Freestyle.


It was an historic triumph for Ryan who in winning the title takes the Sydney CDI Grand Prix Freestyle crown for the sixth occasion (previous wins were in 2012, 2008, 2007, 2003, 2000) which is more than any other rider. It is also 18 year old Regardez Moi's fourth victory in the Grand Prix Freestyle at this event (previous wins were in 2012, 2008, 2003).
 
An ecstatic Ryan, who was awarded a score of 73.78%, was thrilled with his old companion who is not showing any signs of slowing down.


"He's been the most amazing horse. I was involved with breeding him so I've had him since he was conceived and he's 18 now.
 
"I don't know if I'll ever have a horse as magnificent as this ever again in my life, the odds are I won't.
 
"If I was sensible we'd retire while he's doing so well but we're not going to because he just loves it and I love riding him.
 
"We started off together as a bit of an embarrassment to everyone but we've grown and it's been a wonderful journey. I do suspect that in years to come we'll be an embarrassment as we go over the hill, because we are going to continue to come back," Ryan said.
 

Crowd pleaser Brett Parbery was a welcomed addition to the evening's line-up, returning to the Grand Prix Freestyle at this event for the first time since 2011. Parbery put competitors on notice early on when his
 11 year old Hanoverian gelding DP Weltmieser was awarded a score of 69.43% in its first outing at this level. The score secure them 3rd place overall.


Winner of Friday's Grand Prix, Caroline Wagner and Tango V, followed and tey were marginally better with a score of 69.43% which saw them slot into second place.
 

The addition of a show jumping accumulator to the final night of competition at the Sydney CDI gave spectators further reason to cheer and a joker fence (which wiped four penalties of a combination's score if cleared) and strong field, including Olympians Vicki Roycroft and Chris Chugg, were well received by the enthusiastic crowd.
 
"We don't normally get to compete in front of a crowd as big as this, it's been a great competition," said winner of the class Colleen Brook (ASB Quindoctro).
 

Earlier in the day the Futures squad combination of Lisa Martin and First Famous were decisive winners of the IRT Intermediate Freestyle finishing more than seven percentage points ahead of second positioned
Sally Evans and A Spider Bite. The pairing impressed spectators with their performance and were rewarded accordingly with a score of 76.125%. Third in this class went to Rebecca Woff and Jazzari.
 

Having finished as runner-up in yesterday's Mulawa Performance Grand Prix under 25 class, Young Rider Megan Byrant got the win she had been chasing in the Under 25 Freestyle. Bryant and Northern Xanthus III were awarded a score of 67.185%, ahead of Victoria Welch and Bretanus who scored 65.875%. Robbie Soster and Robali Razzamatazz fell into third place with a score of 65.550%.

In taking first place in the Zilco Intermediate I Freestyle, Brett Parbery's Good as Gold also won the small tour champion title. Parbery and his 14 year old warmblood gelding were clear winners in this class with all five judges placing the pair first. Collectively the combination scored 72.475% which was ahead of second placed combination Victoria Welch and Glogau who scored 70.375%. Third place went to Sheridyn Ashwood and Fererro Chocolate Box (69.250%).
 
"This has been a tough group to compete against and the camaraderie is fantastic. Thank-you to everyone who has come along to support us tonight," Parbery said.  


The Gow Gates FEI Young Rider CDI-Y was won by Courtney Barbera on Half Mood Delicato (69.825%) followed by Victoria Stuckey (67.600%) and Morgan Duell and Florinzz (67.050%).