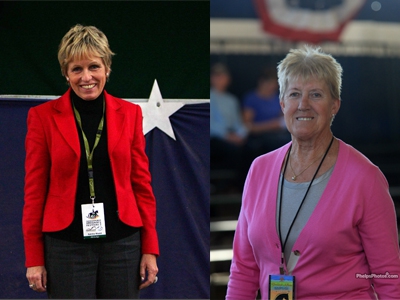 Bernie Saunders and Phelps Photos
International Workshop
Sunday, 10 May 2015
Held in conjunction with the Sydney CDI.  Sydney International Equestrian Centre, Horsley Park
Location:  Indoor Arena
The morning Horse and Rider session will be devoted to Freestyles in the indoor arena, Theory session presentations in the Top Spot Marquee in the afternoon.  The top line up of presenters will ensure an interesting and instructive experience for all who attend.
Presenters: 
Katrina Wuest - FEI 5* Judge from Germany  

Lilo Fore - FEI 5* Judge from the USA
Judges, Coaches and riders of all levels are welcome to attend along with anyone interested in dressage or equestrian sports.
Katrina Wuest and Lilo Fore's Presentations have been seen from London's Olympia to Tokyo in the past year.  It is planned to use 5 horse and rider combinations in the morning with their Freestyle's.  Freestyles this year will be featured in the Advanced Medium Tour, Intermediate 1 and Grand Prix in the CDI3* so this is an important part of the Dressage experience for everyone.
It is a great opportunity to see and hear FEI 5* Judges, with great reputations as the best in their field, and you don't have to travel to another country!
You can book on line at Nominate  or alternatively download a booking form from the DNSW website and return to us. 
More information: 
Workshop Flyer_CDI 2015.pdf