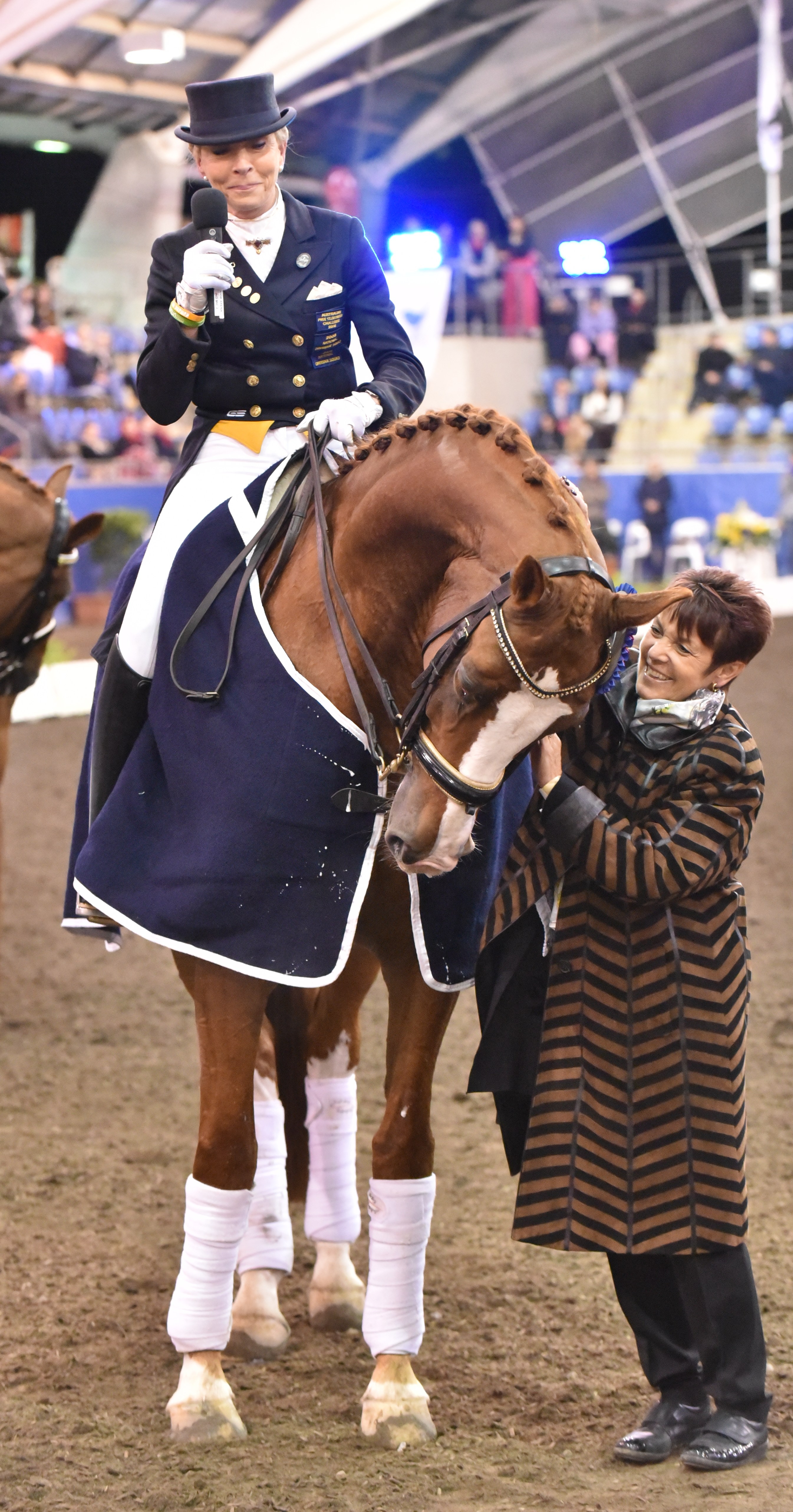 Franz Venhaus
Judy Dierks takes out showcase event at Sydney CDI 3*
It was an extremely happy birthday for NSW rider Judy Dierks today after she secured victory in the 2015 Sydney CDI 3* showcase event, the Grand Prix Freestyle Competition (CDI), on Diamond Star.
It was standing room only as a huge crowd packed the indoor arena at Sydney International Equestrian Centre on what was the final day of the 2015 Sydney CDI competition, with no less than seven leader board changes during the two-hour Grand Prix Freestyle.
South Australia's John Thompson proved a crowd favourite for his flamboyant passage down the centreline with Bates Antonello, while Victorian competitors Maree Tomkinson and Diamantina 4 also received considerable applause for their test, which for a time saw them take the lead with 69.30%.
But six-time Sydney CDI Grand Prix Freestyle winner Heath Ryan and his 19-year-old stallion Regardez Moi – described by emcee Gary Wilkinson as "wily veterans of the sport" – soon snatched the lead, scoring just 0.1% to take the top spot.
The tussle at the top continued with the lead swapping several more times as scores came in first for Julie Brougham and Vom Feinsten (69.375), Katharine Farrell and Luxor 118 (70.250), Mary Hanna on Umbro (72.550), and finally Judy Dierks (72.775).
After a hugely successful three days of competition, Brett Parbery and DP Weltmieser (70.150) couldn't manage a clean sweep of the Grand Prix events and finished the freestyle in fourth place.
The crowd sang a rousing "Happy Birthday to You" as Judy and Vicki Newham's Diamond Hit gelding prepared to receive their prize, and gave them a second big cheer during their victory lap of the arena.
It was Mary Hanna who recorded victory the first win of the competition's final day, in the HQ Insurance Intermediate II Competition (CDN). Mary rode the Jazz mare, Hamag W Strona, for a score of 66.842% to be nearly 1.5% clear of second placegetter NSW rider Suzanne Hearn on the Jive Magic gelding, Jude.
Winner of the Zilco International Intermediate Freestyle Competition (CDI) was Hawkesbury rider and Australia Olympian Rachael Downs, who put in a wonderful performance on John Potter's impressive Sir Donnerhall gelding, Silbermond, to top the field of 15 competitors with 72.050%. It was an emotional moment at the evening's presentation as Rachael's groom, Helen Bray, was also awarded one of three special trophies of the Sydney CDI, the Mike O'Callahan Groom's Award for the overall groom of the event, presented by Sandy O'Callahan.
Rachael also lifted the 2015 John Lieutenant Memorial Trophy for the individual horse and rider combination obtaining the best three official scores in the Prix St Georges, Intermediate I, and Intermediate Freestyle, or Grand Prix, Grand Prix Special and Grand Prix Freestyle.
Victorian young rider Tayla Desmet reinforced yesterday's victory in the CDI-Y with a win in the Agnes Banks Equine Clinic CDI-Y Freestyle, with a technically and artistically impressive test that saw her score her highest mark yet of the three-day competition.
With the judges at E, M and B scoring her over 70%, Tayla and the Rotspon gelding Rodrigo III finished their final test at their first Sydney CDI together on a total of 70.225%, with Queenslander Elloise Devlin and Brimstone Anakiwa in second (69.6%) and Victorian Morgan Duell on Florinzz third (69.575%).
NSW south coast rider Alycia Targa also repeated her performance in yesterday's Advanced Tournament on the seven-year-old gelding, CP Dresden, taking out the IRT Advanced Tournament Freestyle with 70.292%.
Competition in the Advanced Freestyle was fierce, with the top three combinations – Alycia Targa, Nina Boyd on Kalimna Emblem and Mark Arthur on Show Master – all scoring in excess of 70%.
This year is the first that has featured a Medium Tour Freestyle event, and Susan Elekessy on her own Don Frederik gelding, Don Rubin, won the inaugural Wade Equine Coaches EA/FEI Medium Tour Freestyle (67.625) only just ahead of Rozzie Ryan and Jarrah R (67.292).
Shanon McKimmie and Ambassi took out the Mulawa Performance CDI Under 25 Grand Prix Freestyle with 62.7%.
Three superb young horses claimed the HHSA NSW Young Horse Championships, with Andrea Beatty's Sandro Hit gelding SPH Renaissance, ridden by Rodney Martin, winning the four-year-old title. Daniella Dierks rode Melanie Bloom's stallion Bloomer's Simply the Best to success in the five-year-old class, while the expressive Royal Hit gelding Saddle Up Romper Stomper took out the six-year-old championship under Victorian rider Maree Tomkinson.
French judge Raphael Saleh, who officiated in the young horse championship at the Sydney CDI, commented that the quality of horses in Australia was getting better and better.
"I think you are having more and more good horses, and your top riders are really improving," he said. "I am talking not only about the ones I can see here in Australia, but also the ones I am used to seeing often in Europe. You can see that through the results abroad."
It was extremely important for Australian dressage riders to overcome the tyranny of distance and continue to travel and compete in Europe so the local standard could keep rising, Raphael said.
"I think it's absolutely important for you to go where the sport is, and to share and to compare," he said. "Actually we can compare the sport in Australia with the sport nationally in different countries; if you stay in your own country without competing with the best, (it's like being) alone in front of our mirror where we are all the best.
"You really need to go out and to compare and to see where you are, exactly. So I think it's always good for the sport when we can make it but for sure it's really difficult and expensive for Australians and you can't only do it for one show."
The final day of the Sydney CDI also saw showjumpers compete in the Oaks Sporthorses NSW Young Horse Showjumping Series Final, with Brooke Campbell on Tulara Colemine, current Australian senior showjumping champion David Cameron riding Ava, and Amanda Madigan riding Diamond B Velveteen tying for first place in the 4-year-old class. Stephen Dingwall riding Cavalier Durouet won the five-year-old class, George Johnson riding Dusky Farm Smoko took out the six-year-old class, and Andrew Inglis was successful in the seven-year-old class.
The jumping continued in the evening, with the exciting Equestrian NSW Jumping Accumulator Stakes held in the indoor arena prior to the Grand Prix Freestyle. The crowd cheered on talented showjumper Tom McDermott as he steered Fernhill Quintago clear to victory in a time of 47.40 seconds