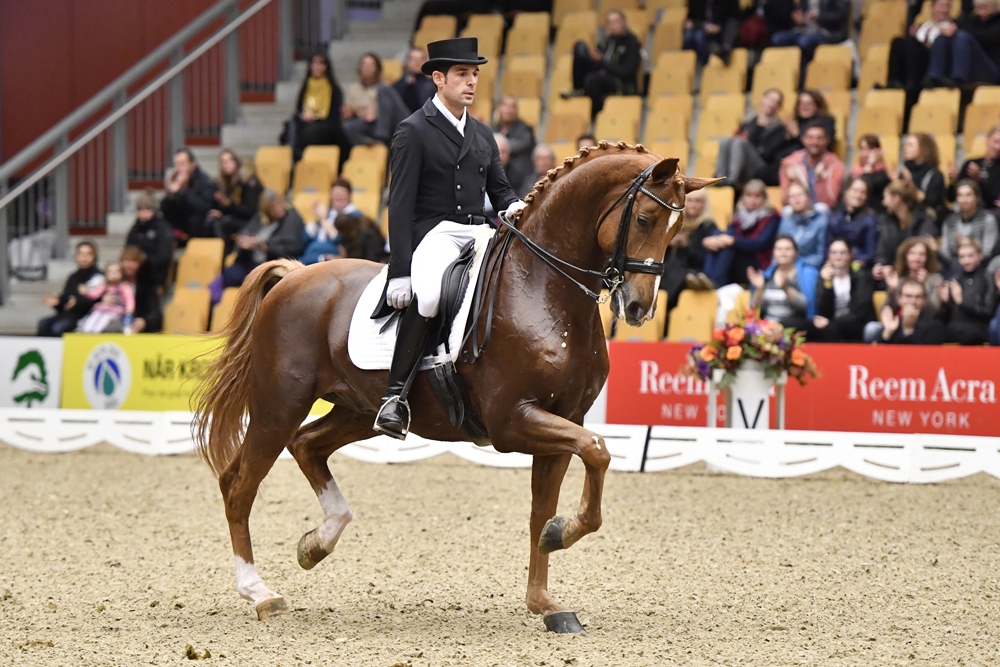 Annette Boe Ostergaard/FEI
Jurado Lopez and Lorenzo reign supreme at World Cup opener in Odense
FEI World Cup™ Dressage 2016/2017 - Round 1
Odense (DEN), 23 October 2016 
Photo caption: The sensational Spanish partnership of Severo Jesus Jurado Lopez and the 10-year-old gelding Lorenzo were convincing winners of today's first leg of the FEI World Cup™ Dressage 2016/2017 Western European League at Odense in Denmark. (Annette Boe Ostergaard/FEI) 
By Louise Parkes 
The sensational Spanish partnership of Severo Jesus Jurado Lopez and the 10-year-old gelding Lorenzo were convincing winners of today's first leg of the FEI World Cup™ Dressage 2016/2017 Western European League at Odense in Denmark. Throwing down a score of 82.060 they pinned Sweden's seven-time Olympian Tinne Vilhelmson Silfven into runner-up spot with Paridon Magi, while another of the strong Swedish contingent, Rose Mathisen, steered Zuidenwind into third. 
"Lorenzo is coming back after his holidays", explained the 28-year-old Spaniard who made a huge impact when finishing fifth at the Rio 2016 Olympic Games with the horse who only competed in his first international Grand Prix last February.  "At the moment he may not be as sharp as he was earlier in the season but he is coming along nicely. He coped very well with the atmosphere and he enjoyed the applause of the crowd!" said the rider who is based in the North of Denmark and works as a trainer at Helgstrand Dressage. 
Favourite 
From the starting field of 15 horse-and-rider combinations he was always favourite to win after topping yesterday's Grand Prix in which Mathisen was runner-up, and once again today, as Lorenzo made his World Cup debut, he turned on the showmanship that set the spectators alight. "I think a freestyle somehow should reflect the personality of the rider, and I very much like guitar music so Santana was an easy choice for me" he said, talking of his musical score. 
He took the lead with just four left to go, and Mathisen slotted in behind him when she followed him into the ring to post 76.705 with her 12-year-old stallion. "This was not only Zuidenwind's first World Cup but also his first international indoor Grand Prix so I am very happy with him" said the 57-year-old rider who originated from Norway but now competes under the Swedish flag.  
Overtaken 
However she was immediately overtaken for runner-up spot by 49-year-old Vilhelmson Silfven who was delighted when posting a mark of 79.555 with Paridon Magi.   
"He was really super and got his best score ever today. I was a tiny bit behind the music but caught up" she said. 
Jurado Lopez said he will continue to chase down qualifying points "because we are hoping to get to the Final". The FEI World Cup™ Dressage 2016/2017 Final will take place in Omaha, Nebraska (USA) next March and the second leg of the Western European League qualifying series will take place next week, in Lyon, France. 
Result: 1, Lorenzo (Severo Jesus Jurado Lopez) ESP 82.060; 2, Paridon Magi (Tinne Vilhelmson-Silfven) SWE 79.555; 3, Zuidenwind (Rose Mathisen) SWE 76.705; 4, Du Soleil (Kristy Oakley) AUS 76.705; 5, Jimmie Choo Seq (Mads Hendeliowitz) SWE 75.740; 6, Radetzky (Marjan van Der Jagt) NED 74.375; 7, Meggle's Boston (Hendrik Lochthowe) GER 73.505; 8, Rustique (Mai Tofte Olesen) DEN 73.365; 9, Fuerstano (Juliane Brunkhorst) GER 72.585; 10, Daintree 3 (Kathleen Keller) GER 71.835; 11, Ratzinger (Marlies van Baalen) NED 71.050; 12, Aston Martin (Helene Melsen) DEN 70.690; 13, Ramoneur 6 (Tanya Seymour) RSA 70.270; 14, Sirikit (Carina Nevermann Torup) DEN 68.290; 15, Heselgaards Rismon (Hasse Hoffmann) DEN 66.825. 
Detailed result here  
Facts and Figures: 
Odense in Denmark presented the first leg of the FEI World Cup™ Dressage 2016/2017 Western European League today.
15 horse-and-rider combinations from 7 countries competed.
The Ground Jury members were : at B, Kurt Christensen (DEN), at M, Katrina Wuest (GER), at C, Susanne Baarup (DEN), at H, Marietta Sanders Van Gansewinkel (NED), at E, Isabelle Judet (FRA).
Danish-based Spanish rider, Severo Jesus Jurado Lopez, who also won yesterday's Grand Prix, gained maximum qualifying points towards the Final which will take place in Omaha, Nebraska USA when coming out on top again in today's Freestyle with Lorenzo.
Sweden's Tinne Viltelmson-Silfven (Paridon Magi) and Rose Mathisen (Zuidenwind) placed second and third.
The new Degree of Difficulty (DoD) Freestyle Judging System was used for the very first time at the FEI World Cup™ Dressage qualifier in Odense. It will be implemented throughout the 2016/2017 Western European League and will be evaluated on a regular basis, welcoming feedback from organisers, IT providers, judges, riders and trainers.
This new system has been developed to make the judgement of the degree of difficulty in freestyle presentations more transparent and to ensure that the assessment of the various difficulties is the same for each rider, depending on the quality of the execution. 
Quotes: 
Kristy Oatley AUS (4th with Du Soleil): "Today was the first time I rode my new freestyle so I actually focused more on the music than on my horse but he was fine in there today. Sometimes he gets over enthusiastic in an indoor atmosphere. He has done two World Cups last year but this is our first indoor show this season and I am quite happy with our performance today."
Mads Hendeliowitz SWE (5th with Jimmie Choo): "My horse got very tense in the warm-up today but he managed to settle quite well in the arena and I had very good ride. I now have a higher degree of difficulty in my freestyle, but it went really well, and I am – as always – very happy with him. Hopefully we will do the World Cup in Stuttgart and definitely Olympia London at the end of the year.
Susanne Baarup, Ground Jury President - talking about the new Degree of Difficulty (DoD) Freestyle Judging System which was introduced today: "Overall it went well…It is a learning curve where everyone still has a lot to learn. It was challenging for the judging when some of the riders did not stick to their initial floor plan but it as a good development for the sport, and towards the end of the class we saw very high quality riding." 
Don't miss a hoofbeat! Watch it all LIVE on www.feitv.org
FEI World Cup™ Dressage press kit - www.feipresskits.org & check out the latest on www.fei.org
Social media: #FEIWorldCupWEL #RidetoOmaha #FEIWorldCupFinals #TwoHearts 
Rider biographies: view online and download from www.fei.org/bios