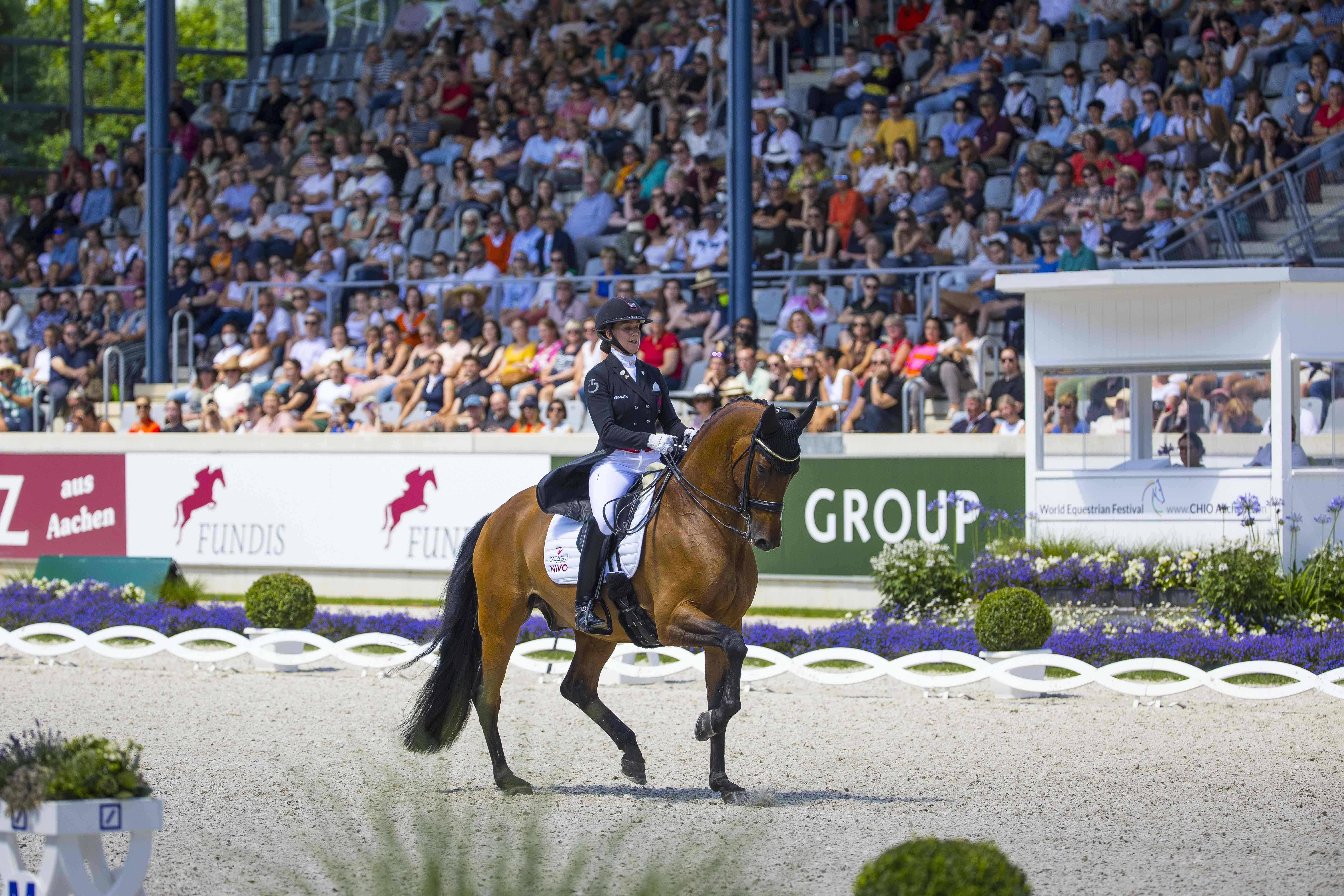 FEI/Leanjo de Koster
Laudrup-Dufour leads powerful Danish challenge in Dressage
Pic caption: Cathrine Laudrup-Dufour and Vamos Amigos will headline the host nation challenge when the Blue Hors FEI Dressage World Championship gets underway at the ECCO FEI World Championships 2022 in Herning, Denmark on 6 August. (
ECCO FEI World Championships 2022
Herning (DEN), Dressage
By Louise Parkes
With a tide of change once again sweeping through the sport of international Dressage, it seems very possible that the host nation will shine when the ECCO FEI World Championships 2022 gets underway in 10 days time. With a mighty show of strength over the last year, and impressive results at the premier showcase in Aachen (GER) just a few short weeks ago, Team Denmark is in great shape right now.
Leading the charge is world no 2, Cathrine Laudrup-Dufour, who partnered Bohemian in the team that finished fourth at the delayed Tokyo 2020 Olympic Games last summer. They then went on to win team bronze at the European Championships in Hagen (GER) a few weeks later where Dufour also claimed individual bronze in the Grand Prix Special and silver in the Freestyle.
Major stir
Roll on 2022 and the Danes caused another major stir when swamping the leaderboard at the fifth leg of the FEI Dressage World Cup™ 2021/2022 Western European League in Neumunster (GER) in February. World no. 1, Germany's Jessica von Bredow-Werndl, claimed pole position with her Tokyo Olympic champion TSF Dalera BB but, in a field filled with class, Laudrup-Dufour - this time riding the younger Vamos Amigos - finished second ahead of compatriots Nanna Skodborg Merrald (Atterupgaards Orthilia) and Carina Cassøe Krüth (Heiline's Danciera) in third and fourth. German legend Isabell Werth had to settle for fifth place with her relatively new ride, DSP Qantaz.
Then at the FEI Dressage World Cup™ Final in Leipzig (GER) in April, Laudrup-Dufour and Vamos Amigos finished second in the Short Grand Prix and Grand Prix Freestyle, each time sharing the podium with von Bredow-Werndl and Werth. And in Aachen earlier this month she was joined by Skodborg Merrald, Cassøe Krüth and Daniel Bachmann Andersen (Marshall-Bell) to post victory in the penultimate leg of the FEI Dressage Nations Cup™ 2022 series before going on to win both the Grand Prix Special and Grand Prix Freestyle with Vamos Amigos.
It's no wonder that this is the team now selected to represent the host country when the action kicks off in just over a weeks' time.
History
The history of the FEI Dressage World Championships dates back to 1966 when the first edition was staged at the Swiss Cavalry School in Bern (SUI) with a starting field of just 24 competitors. Germany has been the dominant force since then, claiming the team title for the twelfth time at the FEI World Equestrian Games™ in Tryon (USA) in 2018.
Running on a four-year cycle. half-way between each Olympic Games, Denmark has only once made it onto the Team podium when taking bronze at the fifth edition in Lausanne (SUI) in 1982.
However the Danish team finished fourth and Andreas Helgstrand really put his country on the map when clinching Freestyle silver and Grand Prix Special bronze in Aachen in 2006 partnering Blue Hors Matine. The pair were in the best of company, with superstars Isabell Werth and Satchmo and The Netherlands' Anky van Grunsven and Salinero filling the other two podium places on each occasion.
And now Team Denmark are a real force to be reckoned with.
Paris 2024
The Blue Hors FEI Dressage World Championships 2022 provides the first qualification opportunity for the Paris 2024 Olympic Games so there's a lot hanging in the balance. The top six teams, excluding the hosts, will make the cut from the long list of 20 competing nations that includes Australia, Austria, Belgium, Brazil, Denmark, Finland, France, Germany, Great Britain, Ireland, Japan, Netherlands, Norway, New Zealand, Poland, Portugal, Spain, Sweden, Switzerland and USA.
A total of 95 athletes from 34 countries will line out, and there will be individual representatives from another 14 countries; Armenia, Canada, Colombia, Dominican Republic, Estonia, Hungary, India, Lithuania, Luxembourg, Morocco, Moldova, Palestine, Singapore and South Africa.
The defending Team champions from Germany will of course be determined to uphold their incredible record despite the absence of von Bredow-Werndl and her lovely mare TSF Dalera BB who have been all but unbeatable for some time now. With a new baby on the way very shortly the Olympic, European and World Cup champion is sidelined for the moment, so her country's four-strong side consists of Werth (DSP Quantaz), Frederic Wandres (Duke of Britain FRH), Benjamin Werndl (Famoso OLD) and the extraordinary Ingrid Klimke (Franziskus 15), a multiple champion in the sport of Eventing whose father, Reiner Klimke, was a double world champion in Dressage and one of the great horsemen of all time.
German party
Only a narrow defeat by the Soviet Union in 1970 and a bronze medal finish behind the winning Dutch in 2010 have spoiled the German team party down the years. Great Britain took bronze and the USA slotted into silver medal spot in 2018, and this year's American side is headed up by Steffen Peters (Suppenkasper) who will be joined by Katie Duerhammer (Quartett), Ashley Holzer (Valentine) and Adrienne Lyle (Salvino). Meanwhile putting their best feet forward for Britain will be Richard Davison (Bubblingh), Charlotte Dujardin (Imhotep), Charlotte Fry (Glamourdale) and Gareth Hughes (Classic Briolinca).
Team Sweden's Jeanna Hogbeg (Astoria), Patrik Kittel (Touchdown), Therese Nilshagen (Dante Weltino OLD) and Juliette Ramel (Buriel KH) can be relied upon to give a good account of themselves as can the Dutch foursome of Emmelie Scholtens (Indian Rock), Marieke van der Putten (Torveslettens Titanium), Dinja van Liere (Hermes) and Thamar Zweistra (Hexagon's Ich Weiss). But if the Danes continue to fire on all cylinders then the rest are going to have to be at their very best to keep them in check.
It's all to play for with three sets of medals on offer in the Team event, the individual Grand Prix Special and Grand Prix Freestyle. The Grand Prix, which will run over two days - Saturday 6 and Sunday 7 August - will decide the result of the Team competition and the top 30 finishers will qualify for the Grand Prix Special on Monday 8. The top 15 here will then go through to the Grand Prix Freestyle in which a maximum of three athletes per country are permitted to participate on Wednesday 10 August.
The exceptional Isabell Werth, who won the first of her five World Championship Team gold medals at The Hague (NED) in 1994, was on the victorious 2018 German team and also won the Grand Prix Special with the now-retired mare Bella Rose and will be looking to defend that title too. The Freestyle competition did not take place in Tryon due to a forecast for extreme weather conditions, so the last Freestyle world champion was Great Britain's Charlotte Dujardin who swept all before her with the amazing Valegro in Caen (FRA) in 2014.
More classic Dressage history is about to be made, so don't miss a hoofbeat....
Definite Entries, Timetable and much more here