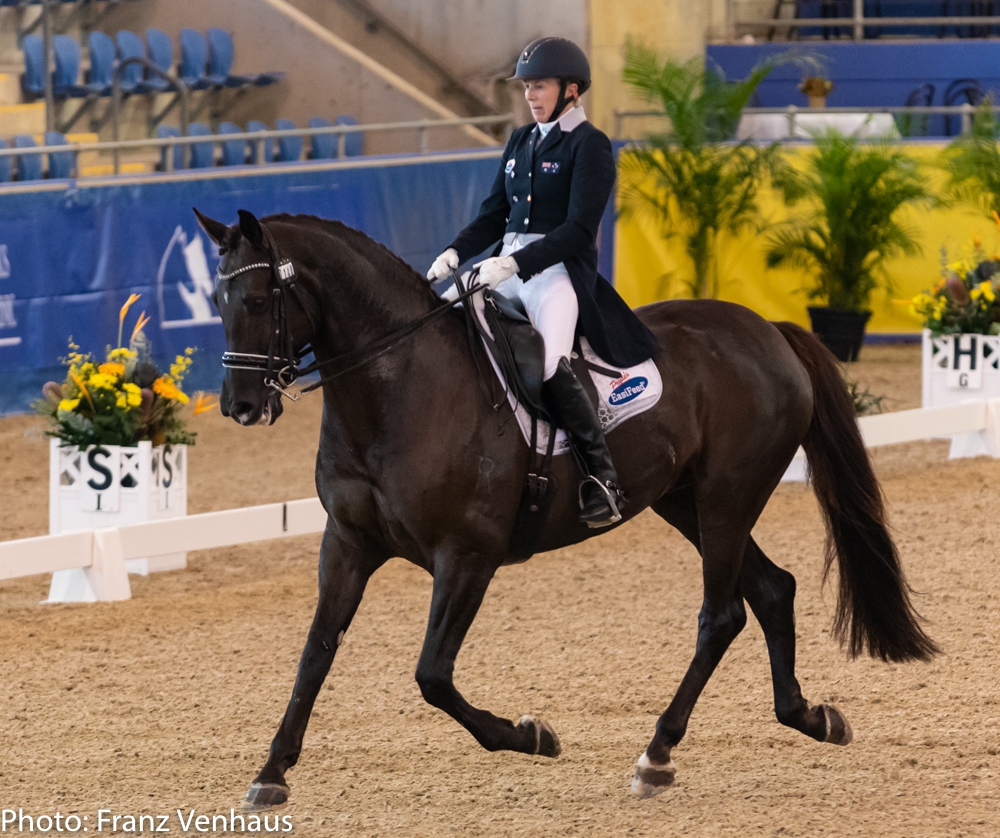 Franz Venhaus
Rozzie Ryan takes out Grand Prix CDI competition at OTTO SPORT AUSTRALIA Sydney CDI3*
Rozzie Ryan riding Jarrah R has taken out the Grand Prix CDI competition at day two of Australia's biggest international dressage event, the OTTO SPORT AUSTRALIA Sydney CDI3* at Sydney International Equestrian Centre (SIEC).
Ryan and the Jive Magic gelding scored 67.522% to claim victory by just 0.348 percentage points ahead of New Zealand's Wendi Williamson on Dom Amour MH in second place and Fiona Selby on Tacita in third, both of whom scored 67.174%.
In other results from day two of the event, Victorian-based Gitte Donvig and the German-bred mare Harmonie W backed up yesterday's win in the Prix St Georges CDN with a victory in the KC Equestrian Intermediate I CDN with 67.11%.
Owned by her mother, five-time Australian Olympic rider May Hanna, Harmonie W is by Hotline and was brought to Australia as a four-year-old.
Donvig said while she was happy with both tests, she felt today lacked a little "zing".
"Yesterday was fantastic, yesterday I felt like I could have just ridden her through anything," Donvig said. "She was amazing in the Prix St Georges and the score reflected that.
"Today, [she was] maybe a little bit tired in her body from yesterday and wasn't as good, but still I was really happy. She was really consistent and she made no mistakes.
"We just didn't have the same zing that we had yesterday, which was really fun to ride."
Fellow Victorian rider Lindsay Ware took out the Agnes Banks Equine Clinic FEI Young Rider Team competition (CDI-Y) on board Aristede with 70.147%, the only rider in the class to score in excess of 70 .
Ware said she had been pleased with their performance in what was her first visit to SIEC's indoor arena.
"I was so happy with all of our canter work," she said. "Our pirouettes just keep getting better and better."
Tomorrow Ware and Aristede will compete in the individual competition, and then will be back in the arena on Saturday for the freestyle.
"That should be a lot of fun. It's our fourth time riding this freestyle and we love it every single time," she said.
Round one of the Kohnke's Own NSW Young Dressage Horse Championships showcased some stunning future dressage horses, with Bluefields Dankeschoen ridden by Lisa Janke recording the highest score of the day to take out the Chaballo 6-year-old class with 93.
Bluefields Dankeschoen is a black stallion by Desperados, and owned by JJ Fuchs.  
The OTTO SPORT AUSTRALIA Sydney CDI3* takes place from until Saturday, May 4. Tickets are available from the venue at SIEC.
Join in the conversation #sydcdi19 #sydneycdi
For more information, visit www.sydneycdi.com.au  
For more information about OTTO SPORT AUSTRALIA visit www.bsmsportequestrian.com.au/ottosport/
ENDS
VIDEOS – Embed from Facebook 
NFP - Media enquiries: Krystyna Pollard 0406 693 735
Videos from day