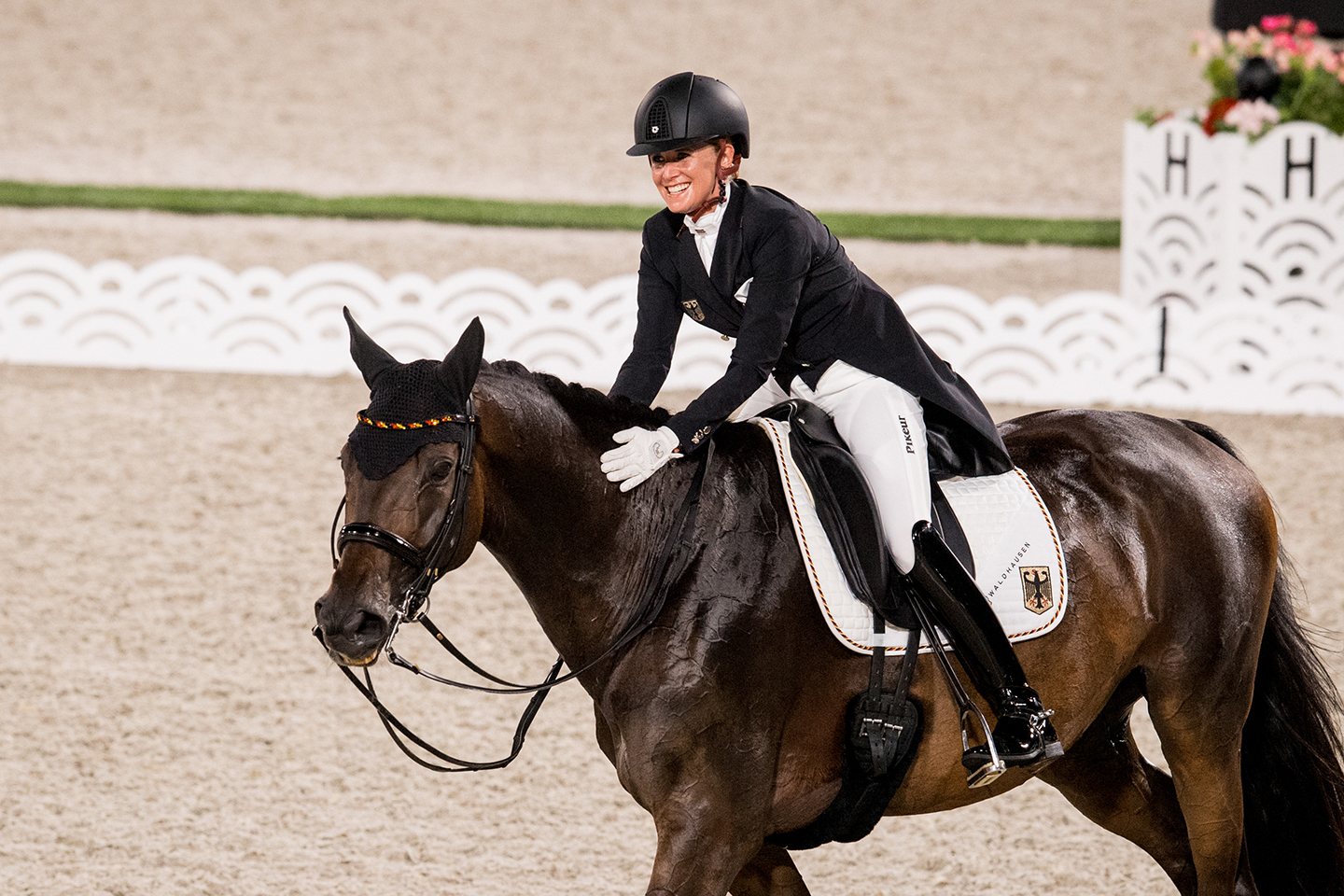 FEI/Shannon Brinkman
Sensational start to race for Olympic Dressage titles
Photo caption: Jessica von Bredow-Werndl produced a personal-best and the biggest score of the evening with in the Dressage Grand Prix to get Team Germany off to a great start at the Tokyo 2020 Olympic Games. 
TOKYO 2020 OLYMPIC GAMES – TOKYO (JPN), 24 July 2021
by Louise Parkes
It may have been a long time coming, but the opening day of Equestrian Dressage at the Tokyo 2020 Olympic Games more than lived up to expectations. Emotions ran high and so did the scores as superb individual performances saw The Netherlands take the early lead in the battle for the Team title, while Germany's Jessica von Bredow-Werndl set a personal-best when posting the biggest mark of the evening with TSF Dalera.
The Grand Prix continues tomorrow when another 30 horse-and-rider combinations take their turn. And if Dorothee Schneider (Showtime) and Isabell Werth (Bella Rose) can come anyway close to the score achieved by compatriot von Bredow-Werndl then Germany looks well on the way to securing the Olympic Dressage Team title for a fabulous 14th time.
Groups
With the competition divided into six groups in total, and three of those groups taking their turn today, it was Great Britain's Charlotte Fry and Everdale who set the early target score when posting 77.096 to top Group A. But only two athletes earned marks over 80%, and Denmark's Cathrine Dufour was the first of these when putting 81.056 on the board with Bohemian to take complete command of Group B.
"It was important for me to give him a really great feeling in the ring today", Dufour said. "I didn't want to push too much because I wanted him to be comfortable in there. And even though there's no audience there's a vibe in the arena and they can feel it!"
Much of her previous success has been achieved with the diminutive Cassidy who carried her through Junior and Young Rider level to triple-bronze at the Senior European Championships in Gothenburg (SWE) in 2017 and bronze again in the Grand Prix Special at the Europeans in Rotterdam (NED) in 2019. Tonight she admitted she felt a bit guilty about leaving the 18-year-old gelding at home and bringing the 11-year-old Bohemian to Tokyo instead.
"Cassidy has been my partner in crime for 11 years so I felt a little bit like I was cheating on him!" But she feels Bohemian is "one of the best horses in the world! He doesn't have any weaknesses."
Firm basis
Meanwhile Edward Gal's score of 78.649 left him second in Group B and gave The Netherlands a firm basis on which to build their team challenge. His black stallion, Total US is only nine years old, and a son of the great Totilas who, with Gal onboard, set the world of Dressage on fire a decade ago. 
"You feel so much comparison, the same feeling when you give your leg, the same reaction. Totilas was more confident at his age - he (Total US) is a bit shy but I've done some more competitions with him now and I feel him getting more confident", said the Dutchman who was sporting an eye-catching new tailcoat. 
Previously Dressage riders were only permitted to dress in modest colours, but following a change to those rules the Dutch Dressage team have joined their Jumping counterparts in wearing the brightest of bright orange jackets so they stand out in every sense.
Show-stopper
A show-stopper in the final group of riders was America's Sabine Schut-Kery who steered the 15-year-old stallion Sanceo to a superb mark of 78.416. The German-born rider who lives in California's Napa Valley produced a test filled with lightness and energy. This is a lady with a fascinating background, as she began her equestrian career performing in exhibitions across Europe with Friesian and Andalusian horses.
She's had Sanceo since he was three years old, "and it's so special to have him now at the pinnacle of the Olympics representing my country!", she said. "In my past I've done a lot of entertainment with horses. The passion for Dressage was always there so we taught them to lie down, bow or sit or rear on command. But with that we were always very passionate about correct Dressage and training the horse correctly and making it look beautiful", said the lady who has performed with her exhibition horses at top venues including Aachen and Stuttgart in Germany. 
Second-last into the arena tonight, Hans-Peter Minderhoud bolstered the Dutch position with a score of 76.817 with Dream Boy, giving his country the lead going into tomorrow's second half of the Grand Prix ahead of Denmark in second and Great Britain in third. But some shuffling of positions can well be expected by the end of the second day.
Thrilling test
And that was made clear by the thrilling test produced by von Bredow-Werndl for the biggest score of the evening, despite a big spook from Dalera before entering the ring following a rainshower.
"She wasn't scared, she was just excited by the atmosphere. She didn't expect it because it was so silent every day here!", said the German star after posting a massive 84.379.
Talking about how testing it was for the riders as well as the horses in the conditions at Baji Koen Equestrian Park tonight she added, "to be honest I'm very fit, but at the centreline where I started the pirouettes I thought 'gosh, it's so exhausting!' It was so hot in there and the humidity is extreme after the rain. It was tough", she said.
Facts and Figures: 
Two athletes, both Olympic first-timers, produced personal-best Grand Prix scores tonight. Germany's Jessica von Bredow-Werndl exceeded her previous best score by 2.727% and America's Sabine Schut-Kery exceeded hers by a massive 3.394%.
The best two combinations from each group, along with the six next best athletes, will qualify for Wednesday's Freestyle which will decide the Individual Olympic title. Tonight the best two combinations in each group were as follows:
Best two combinations from Group A - Great Britain's Charlotte Fry and Everdale with 77.096 and Sweden's Therese Nilshagen with Dante Weltino OLD 75.140.
Best two combinations from Group B - Denmark's Cathrine Dufour and Bohemian with 81.056 and The Netherlands Edward Gal with Total US scoring 78.649.
Best two combinations from Group C - Germany's Jessica von Bredow-Werndl with TSF Dalera and USA's Sabine Schut-Kery with Sancero.
The number of countries now left in the medal race for the Team title has been reduced from 15 to 14. The withdrawal of Victoria Max-Theurer and Abbegelen NRW leaves Austria without a team. The 11-year-old Abbegelen didn't start today because he had a toothache.
Three equestrian athletes were flag-bearers at Friday night's Tokyo 2020 Olympic Games Opening Ceremony - Sweden's Sara Algotsson Astholt, Estonia's Dina Ellermann and Syria's Ahmad Saber Hamcho.
The judges awarded the maximum score of 10 on 10 occasions during tonight's first half of the Grand Prix which is the Team and Individual qualifying competition. Edward Gal's Total US (NED) was awarded a single 10 for Passage, Cathrine Dufour's Bohemian (DEN) was awarded a single 10 for Piaffe and Jessica von Bredow-Werndl's TSF Dalera (GER) was awarded three scores of 10 for Passage/Piaffe Transitions and five scores of 10 for Piaffe.  
Quotes: 
Brazil's Joao Victor Marcari Oliva who is based in Portugal, first rider into the arena with Escorial: "I knew this horse for a long time because he is a famous Lusitano breeding stallion but I never thought I would be riding him. It's a pleasure to open the Olympics. How do I cope with the heat here? Portugal is warm, I am Brazilian so it's fine, it's like home!"
Great Britain's Charlotte Fry: "At the end he got a shock that there were people watching, he was so concentrating on my ride! He knew it was a big occasion, he was so concentrated all day, he knew it was coming, he is so intelligent. I've been riding him since he was 7 and he's now 12. I've done Young Riders with him and U25 Grand Prix and he's moved up to Senior Grand Prix in 2019 so we've really grown up together and built a really good partnership. He's fun to ride and I love every day riding him."
Results here
Photo caption: Jessica von Bredow-Werndl produced a personal-best and the biggest score of the evening with in the Dressage Grand Prix to get Team Germany off to a great start at the Tokyo 2020 Olympic Games. (FEI/Shannon Brinkman)
Images
Images are available now on the FEI Flickr account for editorial use only. 
Press Releases
For the latest reports on the competition across all the disciplines, click here. 

Social media
Join the conversation and follow our social media channels Facebook, Instagram, Twitter, FEI-YouTube using the hashtags #Equestrian #Dressage #Eventing #Showjumping #Tokyo2020 #Olympics