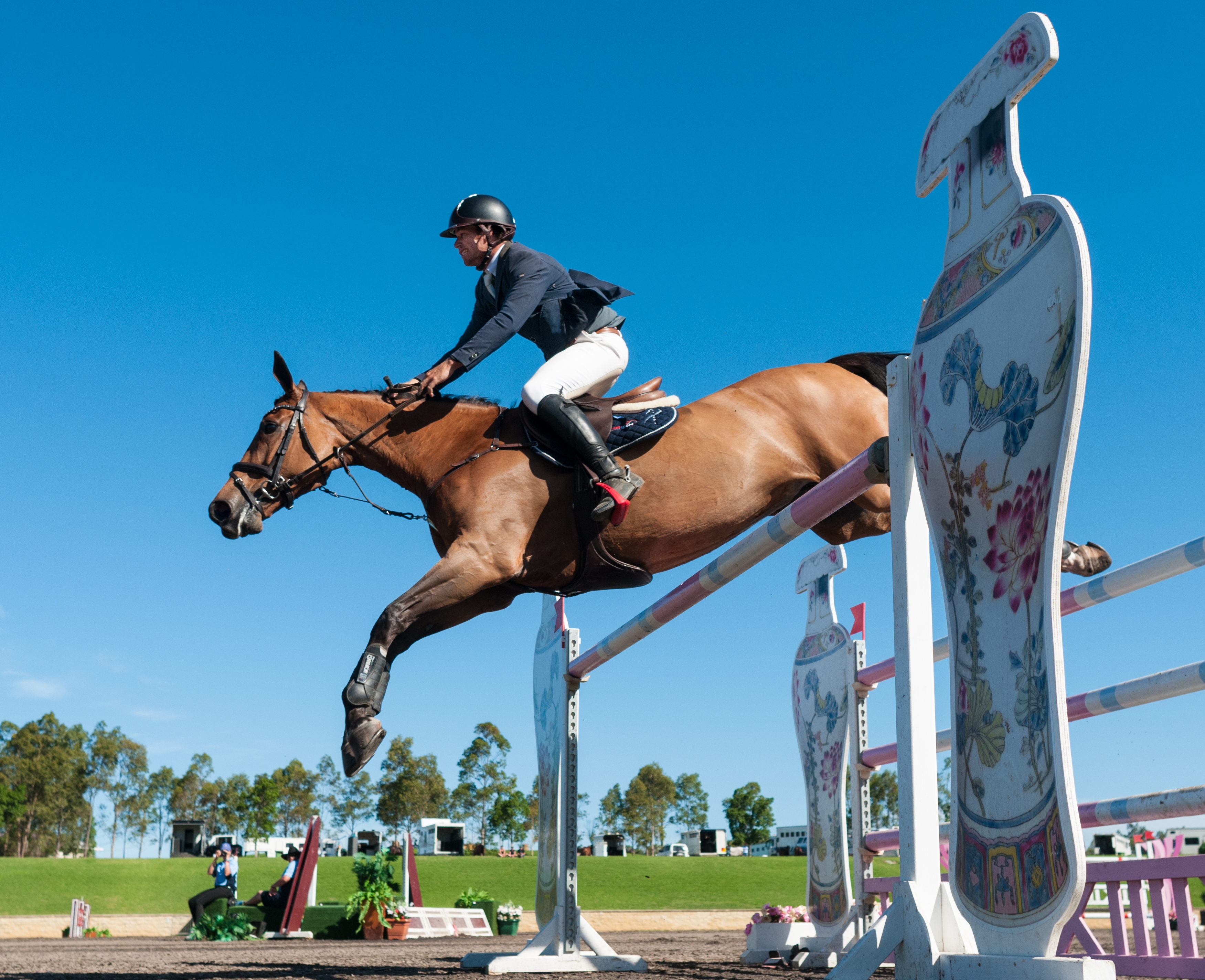 Franz Venhaus
Show jumping champion to compete at Sydney CDI
By Krystyna Pollard
Australia's senior showjumping champion Dave Cameron will be among the big names competing at the 2015 Sydney CDI.
The Sydney CDI Organising Committee is delighted to once again include Jumping on the competition programme.
The Oaks Sport Horses NSW Young Horse Jumping Series Finals taking place all day on Saturday, 9 May will see some of the best four-, five-, six- and seven-year-old horses from around the country compete in their respective age groups.
Dave and his partner Tallara Barwick are planning to bring a total of seven horses to compete in the young horse classes, all sponsored this year by HQ Insurance.
Competition between the pair is set to heat up on Saturday night when both Dave and Tallara will jump off against each other in the Equestrian NSW Jumping Accumulator Stakes, where $1000 is up for grabs to the winner.
The Accumulator Stakes will be held in the indoor arena prior to the ever-popular Grand Prix Freestyle dressage competition, and involves combinations jumping against the clock to see who can accumulate the most points.
Tallara will enter the two-star eventer, Copabella Verdi, jointly owned by herself and Lesley Hargreaves while Dave will most likely ride the seven-year-old Wirragulla Nicklaus mare, Nicollette, owned by Tony Norman.
"She is a very opinionated mare but she can be very quick against the clock," he said. "I am actually a little bit nervous, there will be some tough competition."
Last year's winner, well known Hawkesbury equestrienne Colleen Brook, will also defend her title again this year.
Dave has enjoyed considerable success on the national showjumping scene over the past 12 months, being named 2014 Senior Showjumping Champion at Werribee last September and winning Leading Part 1 Horse at the Sydney Royal Easter Show in March, both on board RR Dyranta.
Dave said both he and Tallara were very happy to support the Oaks Sport Horses NSW Young Horse Jumping Series.
"It's a really good series, we try to follow it because it is really good for producing young horses," he said.
While it will be Dave's first time at the Sydney CDI as a competitor, he said the venue's indoor arena was particularly good for spectators.
"Because it's the accumulator, all the crowd know what's going on," he said. "It's a very good indoor to watch showjumping, you really feel like you're a part of it.
"We are looking forward to putting on a top showjumping display in front of the dressage crowd."
Tickets are available for the entire event or day tickets are on sale each day at the event entrance. Overseas and interstate visitors can book online from the website to ensure a seat on Saturday, as tickets have almost sold out.  Standing room admission applies once all available seating has been sold.
For more information about the event and ticketing visit the website, www.sydneycdi.com.