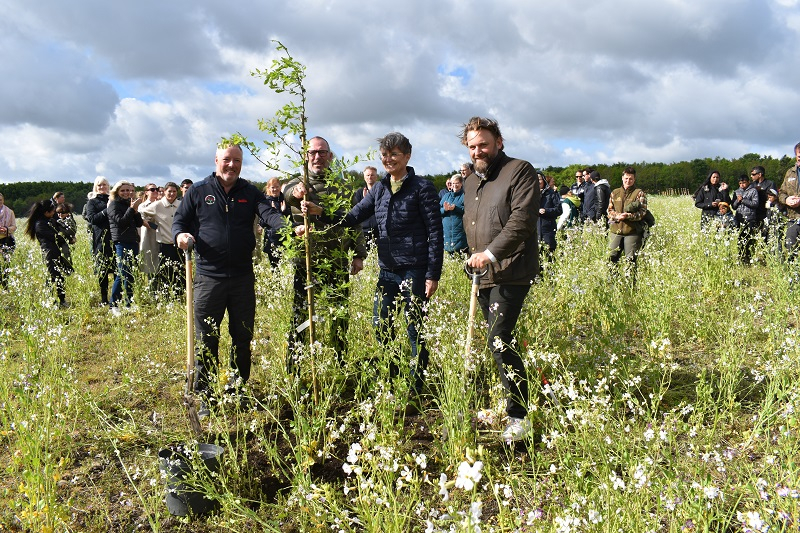 Herning2022 Organising Committee.
Tree planting demonstrates World Championship commitment to sustainability
The first of 60,000 trees have been planted in the FEI World Championships Forest in Herning (DEN), as the city prepares to host the largest equestrian event ever on Danish soil.
Working closely with the local municipality, the Organising Committee of Herning2022 has created a number of green initiatives, including the planting of a forest on the outskirts of the city. 
The sustainability goal of the Organising Committee is straightforward: for the World Championships to make a lasting contribution to the environment, while inspiring everyone involved to take greater responsibility for our planet.
"Forests have a significant positive environmental impact as they are habitats for animals, insects, and plants, and they capture and store atmospheric carbon dioxide from the atmosphere as the trees grow," Herning2022 CEO of Sport Jens Trabjerg said.
"As every equestrian knows, conserving the environment is necessary for the continued practice of our sport. We want to show that major international sporting events like these World Championships, can make a positive difference." 
"Through our collaboration with Sport Event Denmark, we hope that other organisers and everyone involved in the organisation of such events will start to adopt a similar approach, and perhaps even our principles, as they carry out their work. The World Championship-Forest will be a lasting heritage for everyone who wants to come by and enjoy the many diverse forest experiences that this unique area will offer."
A total of 60,000 trees will be planted in collaboration with the Growing Trees Network, a self-governing institution that grows new forests both in Denmark and abroad, with the help of public donations. Calculations show that the FEI World Championships Forest will sequester (capture and store) approximately 12,000 tons of CO2 over the next century.
Photo: Mayor of Herning Dorthe West (third from left) with the CEO of Growing Trees Kim Nielsen (far left), and Herning 2022 Organising Committee Founders Jens Trabjerg and Casper Cassoe (far right) at the tree planting ceremony in the FEI World Championships Forest
The ECCO FEI World Championships Herning 2022 is set to host around 200,000 spectators and over 1,000 media representatives from 6 to 14 August 2022. It is estimated that approximately 200 million TV viewers will tune in to watch the Jumping, Dressage, Vaulting and Para Dressage competitions.
In addition to the FEI World Championships Forest, the Organising Committee will focus on reusing materials that will be rented where possible, and local riding facilities will receive equipment at the end of the Championships. The judges' towers will be made of recycled wood and will also be used for many years in other equestrian facilities. Foliage around these installations will be re-planted in the forest as much as possible at the end of event.
The Organisers have also created 'Solution Square', which is an area at the venue dedicated to Danish environmental technology and circular economy initiatives. 
"Sustainability is about building long‑term value and sport events like the ECCO FEI World Championships in Herning are well placed to create a lasting legacy, not just for equestrian sport but also the local community," FEI Secretary General Sabrina Ibáñez said.
"A change in mindset and attitude is necessary if we are to promote sustainable lifestyles, communities and technologies. And as Herning2022 is showing, the move from small, incremental steps to a bolder strategy for environmental sustainability helps to provide avenues for collaboration and development among local, regional and national stakeholders. 
"The FEI World Championships Forest will be a beautiful legacy for the people of Herning, and will serve as a reminder of what can happen when all parties are willing to come together and work towards a common future."
With environmental sustainability a priority for the FEI, the international governing body has worked towards the implementation of equestrian-specific reporting indexes and the creation of a comprehensive guide book for event organisers world-wide.
The FEI Sustainability Handbook for Event Organisers encourages event organisers to implement sustainability initiatives that help reduce the negative environmental impact of their events and create a positive social and economic legacy.
The FEI is also a signatory of the United Nations Climate Change Sports for Climate Action Framework which calls for parties to "undertake systematic efforts to promote greater environmental responsibility".
In addition, the FEI has adopted a number of sustainability initiatives at its Headquarters in the Olympic Capital of Lausanne (SUI). The FEI head office is recognised as a "Minergie" certified building, a Swiss standard indicating low energy use, with a reduced energy consumption of 25 per cent. When the Headquarters were refurbished in 2011, only two per cent of renovated buildings in Switzerland met these standards. Increased recycling and staff training have also featured in the FEI's Green Office project.