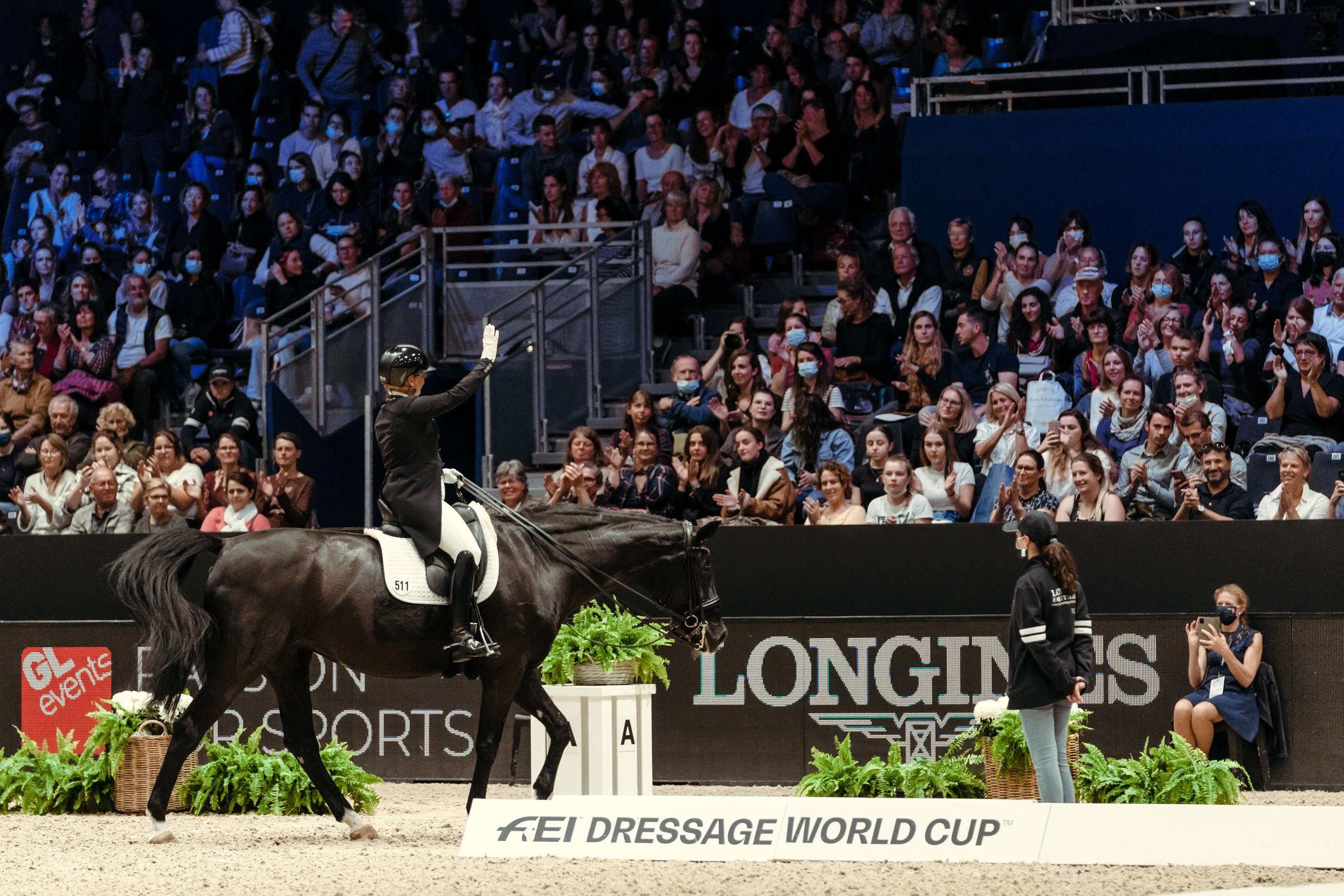 FEI/Christophe Taniere
Werth steps back into the Lyon limelight
Photo caption: Germany's Isabell Werth and Weihegold OLD salute the crowd after victory in today's second leg of the FEI Dressage World Cup™ 2021/2022 Western European League in Lyon, France.
By Louise Parkes
For the fifth time in a row, German supremo Isabell Werth won the FEI Dressage World Cup™ 2021/2022 Western European League qualifier in Lyon, France tonight. And she did it with the 16-year-old mare Weihegold OLD with whom she claimed the last three series titles.
Twelfth to go in an exciting 15-strong field filled with many rising stars, the pair earned a score of 84.910 and that couldn't be beaten. But Denmark's Nanna Skodborg Merrald and Atterupgaards Orthilia came close when putting a personal-best 83.695 on the board for a test that oozed consistency and class.
This 16-year-old mare, formerly competed by Danish compatriot Agnete Kirk Thinggaard and before that by Great Britain's Fiona Bigwood and before that again by Denmark's Cathrine Dufour at Young Rider level, just keeps on giving and, in the hands of this talented 28-year-old Dane, continues to thrive in the ring.
New series
Dufour, who has risen to the very top of the game and who won the first leg of the new series last weekend with her 18-year-old super-hero Atterupgaards Cassidy, competed the nine-year-old gelding Vamos Amigos this time around. And the young horse showed remarkable maturity in a test that included lovely passage/piaffe work to take the lead with 81.135 when the action resumed after the halfway break.
That proved good enough for fourth place at the end of the day, behind Werth at the head of affairs, Skodborg Merrald in second and Germany's Frderick Wandres who slotted into third when last to go with Duke of Britain FRH.
Wandres has been enjoying a good year, collecting the maximum 20 points for a win at the Central European League leg in Samorin (SVK) in August which, when added to those collected at the first two legs on the Western European circuit, leaves him heading the league table going into the next qualifier in Madrid, Spain in a months' time.
Currently Dufour lies second on the leaderboard ahead of The Netherlands' Thamar Zweistra in third and Skodborg Merrald in fourth place. But there's a long and winding road leading to the FEI Dressage World Cup™ Final in Leipzig, Germany next April to which the top nine finishers on the Western European leaderboard will be invited.
Defending
Werth earned no points for her win today, as defending champion she is automatically qualified for the Final with a horse of her choice which must have competed in the Freestyle to Music in at least two qualifiers. But it looks like Weihegold won't be the one fighting that fight in 2022.
The athlete who has collected a mountain of medals during her spectacular career said this evening that she was "super happy" with her horse but "not super happy with my own management! I made a mistake and she was then not as good as she can be!" Her self-criticism is one of the characteristics that has kept her at the very top of the game for so many years, always wanting to do better.
Outlining her plans for the coming months she said she would take Weihegold to the Top Ten dressage final in Stockholm, Sweden in November, and then to Frankfurt in December
"for what will be her last show, because that's where it all started!" Isabell Werth (GER)
It was with Weihegold that her back-to-back run of victories at the Lyon qualifier began in 2016. Riding Emilio she won again in 2017, 2018 and 2019 and today Weihegold showed she can still do all the fancy footwork. The mare's staggering record includes the FEI Dressage World Cup™ titles in 2017, 2018 and 2019 along with team gold and individual silver at the Rio 2016 Olympic Games and five European gold medals.
Delighted
Meanwhile Nanna Skodborg Merrald was delighted to find herself in runner-up spot today. "I really like the pressure and it's great to ride in front of an audience again after nearly two years without shows and the public", said the 28-year-old who, partnering Blue Hors Zack, was a member of the fourth-placed Danish team at the Tokyo 2020 Olympic Games this summer.
Winner Werth agreed with that. "The atmosphere here was great, it felt like we are nearly getting back to normal life, so well done to the Organising Committee for what they have done!", she said.
And Show Director Sylvie Robert was very happy this evening. "We really suffered with no event for nearly two years, so it is a great achievement to be back and to have the crowd with us again this year!", she said.