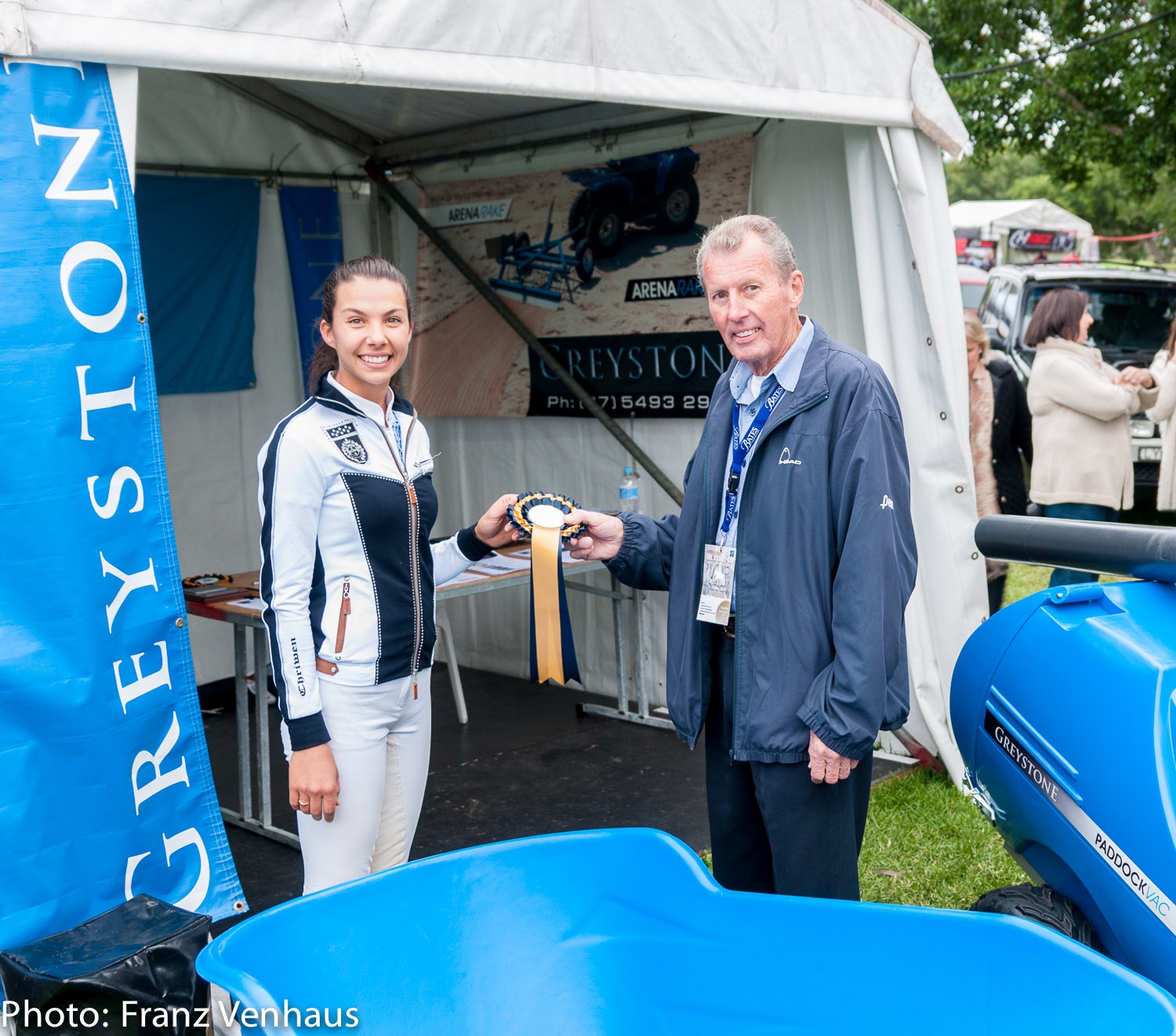 Franz Venhaus
Young Stars of the future set to shine at Sydney CDI 3*
The most talented young dressage riders from around Australia are preparing to travel to Sydney to take part in next month's Sydney CDI 3* international competition.
Riders aged between 16 and 21 years will take part in the Agnes Banks Equine Clinic CDI-Y competitions at the Sydney CDI from May 7 to 9, many coming off the back of excellent performances at the 2015 NCIS Australian Young Rider Dressage Championships held this month at Werribee in Victoria.
Twenty-year-old Grace Kay from Windermere in the NSW Hunter Valley will tackle two Olympic disciplines when she competes at this year's Sydney CDI.
The talented young star will campaign Karingal Jamirquai in the CDI-Y, and will then swap the dressage saddle for a jumping saddle to compete Celerity Park Faberge in the 1m 20cm Equestrian NSW Accumulator Stakes on the Saturday night.
While her immediate goal is to score highly on board Karingal Jamirquai at the event, Grace is looking to become Australia's first rider to represent the country in both dressage and show jumping at the Olympics long-term.
Grace travelled to the Young Rider Dressage Championships with four horses, posting a quinella in the Preliminary Championships and second in the CDI-Y.
Karingal Jamirquai scored an impressive 69.917 in the latter event, and Grace is confident the pair can break the 70 per cent mark in Sydney.
"We got 68 and 69 in our tests at Werribee but I am hoping to crack the 70 in our tests at the Sydney CDI," she said. "I definitely think we can do it as long as I get it together. That is my goal."
Grace said she was extremely thankful to Trailrace Saddleworld who not only sponsor her but the entire CDI-Y series, which involves a number of CDI-Y events around Australia.
"Without sponsors like them, young riders wouldn't have so many opportunities in Australia," she said.
Teenager Camilla Dawson from Armidale in northern NSW will compete at the Sydney CDI for the first time in 2015, debuting on 17.3hh Jaybee Archer owned by Rachel Hunter that she has only been riding since November last year.
The past few months have been a whirlwind of activity for the combination, having competed at the recent Dressage With Altitude CDI in the NSW Central West and the young rider nationals.
"There's been a lot of travelling for us over the past couple of months, that's for sure," Camilla said. "He is a big horse and we have a lot to improve on. I am still learning the rules with the FEI system but it's all coming along nicely.
"I am aiming for a PB at the Sydney CDI with our percentages. Every time I ride I want to improve a little bit more."
Camilla said she was "honoured" to ride Jaybee Archer, and was making the most of such a valuable experience.
"Rachel is my godmother and has been very supportive towards me," she said. "I am using it as a stepping stone to bring my younger horses up through the levels."
And of course behind every great young rider is an equally great team – mum and dad – with parents Greg and Jill helping Camilla out enormously.
"They are my favourite strappers," she laughed.
Tickets are selling out quickly for the event, particularly for the Saturday night jumping and Grand Prix Freestyle.
Tickets are available for the entire event or day tickets are on sale each day at the event entrance. Overseas and interstate visitors can book online from the website to ensure a seat.
An International workshop will be presented by two of the international judges on Sunday, May 10 from 9.30am to 3.30pm, to which all are welcome to attend.
To subscribe to the Sydney CDI YouTube channel:  click here  
Media Enquiries
Krystyna Pollard – 0406 693 735