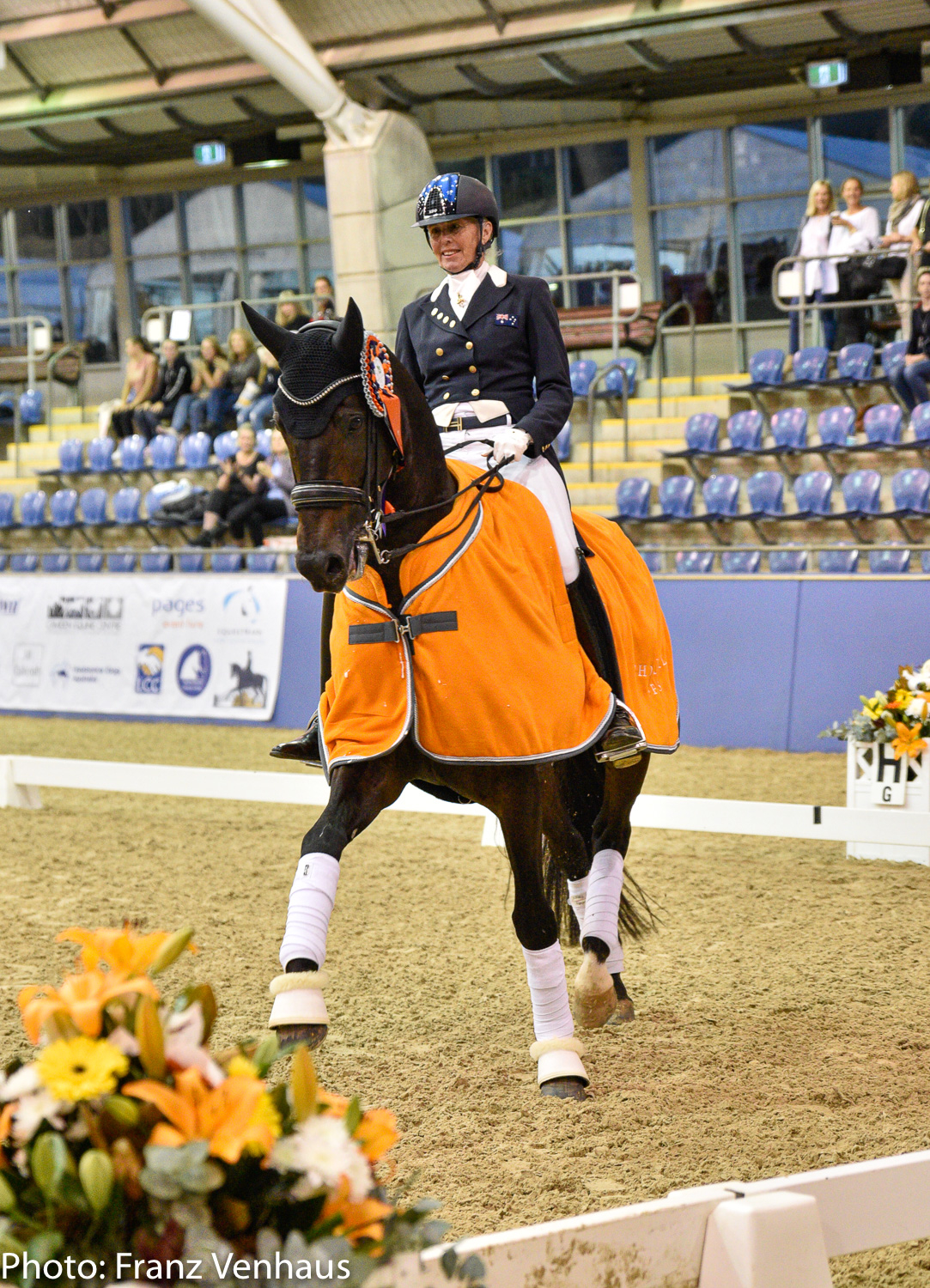 Franz Venhaus
Equestrian NSW FEI Grand Prix Freestyle (CDN)
The last competition of the Sydney CDILITE was the Equestrian NSW FEI Grand Prix (CDN) and Mary Hanna and Syriana were victorious with a score of 75.960%.  Mary and the imported 14 year old mare by Sir Donnerhall put together a technically challenging, well executed test with music befitting of the mare's elegance. 
Second place went to John Thompson and his 8 year old stallion by Connaisseur, JHT Chemistry.  The young stallion produced some great work against an original, eclectic selection of music, well choreographed which featured his highlights, in particular, the piaffe. 
After 3 days of competition, Bradgate Park Puccini with Michelle Baker onboard, really looked so much stronger and more confident in his work, with his quality piaffe being such a positive.  Scoring 73.045%, at only 10 years old, Puccini, by Prestige VDL, being only relatively new to this level, has so much potential for the future. 
In fourth place was Sally Rizzuto and the 14 year old Diamond Star, by Diamond Hit, scoring 71.715% putting together a mistake free, seamless test which featured the horses highlights, particularly the outstanding, regular passage and pirouettes.   
Rozzie Ryan is very clever at putting together freestyles.  Today was no exception with a bright test with complicated, challenging, innovative lines that were well executed.  Jarrah R, a 14 year old Jive Magic gelding danced to very well timed music in his test. 
Sixth place was filled by Lindsay Ware and the 15 year old Aristede who have just moved up from Under 25's into the Senior ranks.  They delivered a technically strong test with some challenging lines. 
Mary Warren and her homebred, Mindarah Park Raphael put together a polished test with some really challenging movements perfectly executed, including 2x changes moving to 1x changes off a curved line into a straight line.  The test was choreographed against some dramatic music with perfect timing earning them 71.085%. 
Eighth place was Rochelle King-Andrews and her 16 year old Challenger Jacaranda, by Jive Magic. 
Final placings were: 
1st        Mary Hanna and Syriana - 75.960%
2nd       John Thompson and  Chemistry  - 73.545%
3rd        Michelle Baker and Bradgate Park Puccini - 73.045%
4th        Sally Rizzuto and Diamond Star - 71.715%
5th        Rozzie Ryan and Jarrah R  -  71.380%
6th        Lindsay Ware and Aristede -  71.335%
7th        Mary Warren and Mindarah Park Raphael  - 71.085%
8th        Rochelle King-Andrews and Challenger Jacaranda - 68.400%